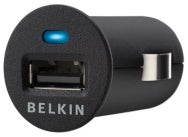 Belkin announced on Monday the $15 Micro Auto Charger, a power accessory that plugs into an auto's accessory outlet (a.k.a., "cigarette-lighter jack") and provides a powered USB port; you use your iPod or iPhone's USB dock-connector cable to charge the player. Unlike most auto chargers, which protrude from your vehicle's accessory outlet, the Micro Auto Charger sits nearly flush with the jack's opening.
Belkin will also offer a $20 version, the Micro Auto Charger with Charge Sync Cable for iPod and iPhone, that includes a USB dock-connector cable. The USB port on both models provides 1A of charging power.
The company also announced the $30 Dual Auto Charger for iPhone and iPod, an auto charger that features two USB ports—one providing 1A of power (for iPhones and GPS units), the other 500mA (for iPods and most mobile phones)—to let you charge two devices simultaneously.
According to Belkin, the Dual Auto Charger is available immediately; the Micro Auto Charger models will be available in early May.