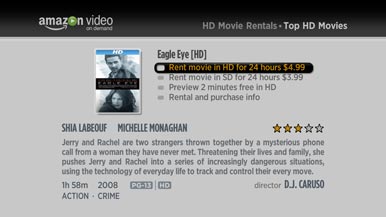 Amazon on Tuesday began offering high-definition movie rentals and HD TV show purchases through its Amazon Video on Demand service. The new HD service launches with more than 500 HD TV shows and movies from companies including Warner Bros. Entertainment, Sony Pictures, Paramount Pictures, MGM Studios, Universal Studios Home Entertainment, and Showtime Networks.
HD movie rentals go for $4 or $5 per film, while TV shows cost $3 each to own.
Amazon's service will play on set-top devices such as the Roku Netflix Box, which recently launched support for Amazon's video-on-demand service. According to Roku spokesman Brian Jaquet, Roku's player now supports the HD upgrade and will play HD and standard-definition content from Amazon as well as Netflix. The videos are also available on TiVo Series 3 and HD devices, the Sony Bravia Internet Link, and Panasonic Viera Cast-enabled TVs.