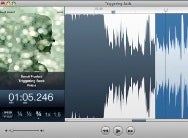 Let's say you really want to learn how to play your favorite song by ear: tablatures are annoying and sheet music is expensive. You bust out your guitar / keyboard / cello, and start picking the MP3 apart piece by piece. Everything is good until you get to that tricky solo part. It just goes by so darn fast! You play it over and over again, but to no avail. It's that one part, with the really fast triplets! Argh!
SuperMegaUltraGroovy's Capo seeks to alleviate the sometimes overwhelming frustration of learning a song by ear. All you do is pop in the song you're learning and Capo will let you slow it down (without changing the pitch, of course), loop difficult passages, use keyboard shortcuts to mark key parts of the song, and even adjust the pitch so you can learn it in a different key.
Capo has a very Mac-like interface that should be easy to navigate even if you've never used an audio app before, and while any serious audio app will contain many of the same features that Capo has, its $39 price point should be appealing to anyone who wants to pick apart their favorite songs without the headache of learning a complicated application or the drain on the wallet.
So there ya have it, prospective song-learner. Now you'll finally be able to play Van Halen's Eruption, note for note, or learn every last hit of John Bonham's Moby Dick solo. Just remember us when you're rich and famous, okay?