If you're looking to use a Mac as the center of your household video consumption, as Christopher Breen has been sketching out this week, you already know about your options for buying movies and videos on iTunes. But if you're a Netflix subscriber—even if you're paying just $9 per month for a single disc at a time—you've also got unlimited free access to a large library of movies and TV shows that stream over the Internet.
It's called Netflix Watch Instantly, and it's dramatically increased the value of my Netflix subscription in the past year. You can watch on any Intel-based Mac—that includes a Mac mini wired up to be a home media server, either via a web browser or a slicker Netflix-enabled home media app such as Boxee or Plex. (If you don't want to hook a Mac up to your TV, you can also watch the movies via a TiVo HD, HD XL, or Series 3 DVR or the excellent $99 Roku Netflix Player [ ].)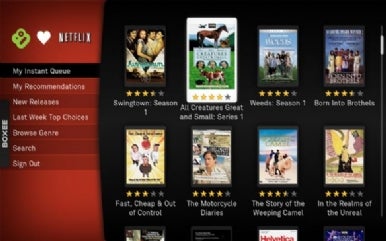 Plenty of people have criticized Watch Instantly for having a limited library of content—and that criticism has some validity. You'll never find the latest and greatest movies and TV shows on Watch Instantly. Of the 144 items in my Netflix queue at the moment, only 22 of them are available for Watch Instantly. (Then again, as a paying member of Netflix, you can easily get those new releases the old-fashioned way: on a DVD, in the mail.)
But what you will find are more than 16,000 different videos, including some real gems. I've got 100 different items in my Watch Instantly queue. Watch Instantly is actually a much better way to watch TV series than renting discs via Netflix, because you don't have to wait for the next disc in the series in order to watch the next episode. They're all just there for you—assuming, of course, that the series you want to watch is available for Watch Instantly.
On Watch Instantly you'll find a cornucopia of British TV, plus numerous other series, including "30 Rock," "CSI," "Friday Night Lights," and "The Office." I've been meaning to watch the first seasons of "Weeds" and "MI-5" for years, but I doubt they would have ever made it to the top of my DVD queue. But now I can watch them on the Netflix Player on the spur of the moment.
Watch Instantly is also great for re-watching films you might have loved, but haven't watched again because you just never went to the trouble of adding the disc back to your Netflix queue. I keep "Primer"—in high definition, no less!—in my Netflix Instant Queue at all times. (That's a movie I might need to watch a thousand times just to understand half of what's going on. Though apparently only users of external hardware boxes like TiVo, Roku,or Xbox have access to HD versions.) Likewise, I've got "Gattaca" in the queue, another movie I'd like to revisit. The service is flush with classic black-and-white films and documentaries, and Netflix's recent deal with Starz means that there's a decent selection of second-tier recent Hollywood releases.
According to the excellent supplementary site Instant Watcher, as of this writing Watch Instantly features 702 dramas, 343 action movies, 369 family films, 570 classics, 233 indie films, 838 documentaries, and 657 comedies. They won't all be gems, but if you're paying for Netflix already it's a great source for lots of legal, free movies and TV shows.
Updated 4/23 to correct name of service and clarify HD availability.