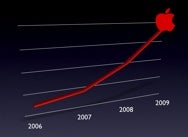 Apple had another record quarter, even if it was asterisked with "non-holiday," and it's getting awfully hard to complain about success these days. But there's still room for improvement in the App Store world. Who let these awful users in?
Sale away, sale away
Apple reported another strong earnings quarter yesterday and there's a lot to like there even if Mac sales are down year-over-year.
First, Mac sales weren't down as much as the overall PC market was down (three percent versus seven percent) and, second, iPod and iPhones sales were strong. As of this writing, the Macalope notes that Wall Street has gotten the message, and Apple's shares are up nicely.
But finally, and most excitingly, Jason Snell reads the tea leaves that strangely come out of Tim Cook's mouth the same way the Macalope does: something wicked boss this way comes. The horny one's fevered dreams are full of the possibilities for this device that nimbly sashays its way toward Bethlehem, but he won't taint your personal creative juices with his particular brand of Kool-Aid. This is a time to savor, Apple followers. Something's around the corner. Let your imagination run wild. And then let Apple blow your mind.
And, okay, probably make you complain about the price.
Read more…
Oh, Fortune-a
In other not-too-shabby news for Apple, the company made the Fortune 100 list for the first time since 1994, jumping up the charts to spot 71.
Now it's true that the applicable analogy here may be whatever the opposite of "a rising tide lifts all boats" is (maybe "a receding tide lowers all boats except the beached dingy") because it's not exactly as though we're surrounded by hovercraft these days, zooming to and fro across the blissfully calm surface of a sound economy.
But, to jerkily switch metaphors, any baseball fan will tell you a win is a win whether it's a one-run squeaker or a 12-run blowout. The Macalope's not saying Apple didn't deserve this win—quite the contrary. He's saying Apple's one of the few bright spots in an otherwise bleak landscape.
So go ahead and bust out that big foam finger that says "We're 71st!"
The reviews are in
Developer Garrett Murray found himself between a rock and another more annoying rock when he fixed an issue with his iPhone app but had to suffer the slings and arrows of users as it sat awaiting Apple's approval (tip o' the antlers to Daring Fireball).
The Macalope won't be the first to note that the approval process is broken, but is it any more broken than the users themselves? The Internet, as is its wont, is rife with half-assed reviews and comments, but if the Macalope reads one more App Store review that says "$1.99 FOR AN APP? SB 99 CENTS LIKE EVERYTHIGN ELSE. FAIL." he's going to butt someone into the middle of the next fiscal quarter.
Apple has made some positive steps to improve this, such as requiring that people actually use an app before reviewing it. And it's not that users shouldn't feel a little put out when they buy an app that isn't currently working right, but if the developer has already fixed it and is just waiting for it to clear the red tape, there's no excuse for taking it out in a review.
Now, to be fair to these particular users, many of these may be kids. Or on dope. Or kids on dope who are also just congenital jerks. And, to a certain degree, Murray may be missing the thousand people who are clapping, instead only hearing that one person who's booing.
Also, he made an app for people to check their Web stats from their phone. And he called it "Ego." So, maybe his user group is of, shall we say, a certain type.
But, still, the App Store does tend to elevate the blatherings of the unwashed masses to the level of "people who have reasoned opinions."
So, here's a challenge for you, the Macalope's vivacious and well-appointed reader: pick up your iPhone or iPod touch and flip through the apps. Find the ones you really like, log on to iTunes and write a review. Why just the ones you like? Well, chances are there aren't any apps on your iPhone you don't like and, really, this is more about the carrot than the stick.
Rest assured that some 12-year-old jerkweed on dope with a bad case of Tourette's and a brevity of wit that would make Twitter look like A Confederacy of Dunces has already taken care of the stick.
…
Well, go on. Move, people.
(Disclosure: the Macalope holds an insignificant number of Apple shares.)