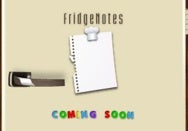 There is no shortage, in the App Store's 35,000-strong catalog, of apps that let you quickly jot down notes and lists. The upcoming FridgeNotes from Centrix.ca, makers of NetworkLocation, will bring a fun user interface and some new tricks to the table, including sharing and syncing notes with other users. FridgeNotes is in private beta testing now, but Macworld got to take a sneak peek at this wholly unique iPhone notepad.
FridgeNotes is exactly what it sounds like. The main screen displays a 1950's-era refrigerator door with just two buttons at the bottom: one to create a new item, the other to switch to a list view. You can create notes with a simple title and a body, or lists to which you can add items that are accompanied by checkboxes.
So far, FridgeNotes's functionality is nice, though fairly straightforward and simple. I'll get to its killer features—truly effortless syncing and sharing—in a moment, but it's worth noting that the app has a lot of UI polish and pays attention to the overall experience. Instead of going with a drab list of items and the basic toolbars that many competitors employ, Centrix.ca dove head-first into the conceit of a refrigerator user-interface.
Read more…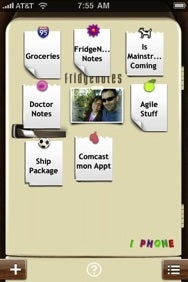 For instance, a photo taped to the center of the fridge is interactive: tap it, and you can replace it with a photo from your device's library. Colorful letter magnets spell out the name of your device (the one you added in iTunes when you activated it) in the lower right corner. Finally, each note and list gets affixed to the refrigerator door with an assortment of unique magnets, from simple shapes like fruit or soccer balls to the legendary dogcow.
Besides a pretty UI, though, FridgeNotes's killer feature involves syncing—or more accurately, sharing. Tap the globe button in the lower left of any note or list, and you'll get a dialog for either e-mailing a text version of your note or sharing and collaborating on it with another FridgeNotes user. This latter option is dead simple: you don't need to register at some site or set up a social-networking profile which other users can spam with invites to games and movie quizzes. Instead, the first time you share a note or list, FridgeNotes asks for your e-mail address and Centrix.ca's remote syncing server sends you a confirmation message. Click a link in the message and you're set up for sharing with any other FridgeNotes user.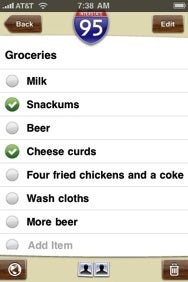 Once your lucky recipients get an e-mail about an item you shared and confirm their own addresses, you all can make changes that automatically sync up to the server once the item is closed. The entire process is seamless and everything is transmitted securely over SSL. For now, Rick Fillion, Centrix.ca co-founder and developer, says the FridgeNotes syncing server will remain "headless," in that your only way of interacting with notes and sharing with other users is via the app on your device. Somewhere down the road, however, there will be a Web-based UI for accessing and managing your data.
I have really enjoyed using FridgeNotes as a replacement for the iPhone's built-in Notes app for these past couple of weeks. I don't miss Apple's silly Marker Felt font, and sharing things with my wife like lists of groceries and potential Chicago neighborhoods to move to has been quite convenient. Once iPhone OS 3.0 ships sometime this summer, Fillion says that FridgeNotes will implement push notifications (among other features) to make the sharing and syncing processes more obvious and interactive.
Fillion says that FridgeNotes needs another week or two of work before the 1.0 is submitted to the App Store. FridgeNotes will cost $3, which should let it compete equally with both cheaper, less-functional apps as well as über-apps like Evernote that do everything-and-the-kitchen sink for free, but require users to register for Web accounts and encourage syncing all their info.
Based on early appearances, FridgeNotes looks to be a useful, streamlined, and gorgeous note-taking app that definitely deserves a glance once it appears on the App Store, especially if you're looking for a way to keep your notes in sync.