Juxtaposer is a photo-editing app that allows you to combine multiple images to create a new—and often funny—result. You can put your friend's head on your dog's body, or your cat's head on your dog's body—that sort of stuff.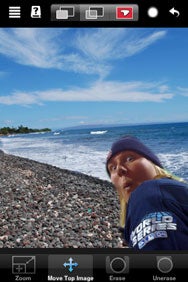 Manipulating images like this can be a lot of fun, and you can come up with an endless amount of entertaining combinations. The $3 Juxtaposer contains a nice set of tools to allow you make all of these combos possible.
Hendrik Kueck's app allows you to take new photos, or use existing ones from your photo roll (so iPod touch owners can get in on the fun). You start by selecting a base image; then, choose a top image, which sits above the base. You use an eraser tool to get rid of parts of the top image, leaving only the area which you would like to add. For example, you could erase all of your cat's body, leaving only the head showing. Once you are happy with what is left, you can pinch and resize the remaining top image, and drag it into place—covering the dog's head, for example.
Juxtaposer allows a lot of editing flexibility as well. There are a number of options that let you choose how sharp the edge of the eraser is. I found that it works well if you erase the large parts of the image with the default eraser, and then fine-tune the remaining image with one of the soft edge erasers for maximum accuracy. There is also an Unerase tool, which allows you to restore any part of the image that was accidentally erased. Juxtaposer offers a number of other helpful options as well, such as saving the edited image so it can be stamped onto additional images and uploading the final result to Flickr, Facebook or Twitter.
You can also download a free version of Juxtaposer. It saves images at lower resolutions and does not provide as many editing tools.
It can be difficult to use your fingertip as an eraser, at least in my experience. But Juxtaposer attempts to address this limitation by including a brush size slider.
Overall, the app provides a nice range of tools that allow you to have a lot of fun manipulating photos with impressive results. With some practice, you'll be able to take that picture of your sister from the snowy winter and show her on the beach in Hawaii in no time.
Juxtaposer is compatible with any iPhone or iPod touch running the iPhone 2.x software update.
[Beau Colburn spends a lot of time editing photos, and posts some of them on his weblog.]