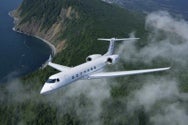 In the past, one of the obscure pieces of data that obsessive Apple watchers—not us, naturally; we're more like enthusiasts—pored over in their attempts to peer into the company's future is just how much time Steve Jobs spent on his private jet. A lot of travel suggests that the Apple CEO has been personally making deals around the world.
So then, you might wonder what Steve's been doing for the past three months of his medical leave. We know he's remained involved in "major strategic decisions." Is he using the absence as cover to jet around the globe? Perhaps he's just taking a well-deserved vacation in the Carribbean? Maybe some golfing and fly-fishing?
According to data I found while, uh, casually flipping through the 10-Q that Apple filed with the SEC this quarter (PDF link), though, Steve's been doing just what he said he'd be doing: taking it easy.
The Company entered into a Reimbursement Agreement with its CEO, Steve Jobs, for the reimbursement of expenses incurred by Mr. Jobs in the operation of his private plane when used for Apple business. The Company did not recognize any expenses pursuant to the Reimbursement Agreement during the three months ended March 28, 2009 and recognized a total of $4,000 in expenses pursuant to the Reimbursement Agreement during the six months ended March 28, 2009.
Just to compare, for the same time period last year, Apple spent $30,000 for the quarter and $580,000 for the prior six months. So either Steve's been staying put or he's been flying commercial.
Let me simplify that for you: Steve Jobs don't fly commercial, friend.