Apple's financial results for its second-quarter of 2009 were very favorable despite a few dark spots. But though the company may have posted its most successful non-holiday quarter ever, there are still some signs that Apple is scaling back on costs in order to combat the effects of the current economic situation.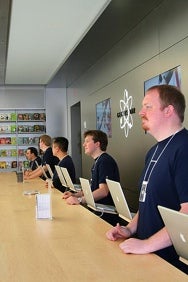 Apple's 10-Q form filed with the SEC noted that the company had 14,000 full-time retail employees as of the end of the past quarter. That number stands in sharp contrast to the 15,600 employees the company reported in the same document filed at the end of the December 2008 quarter.
Did Apple lay off 1,600 retail workers? There are other possible explanations, including shifting workers to part-time status or cutting excess personnel employed during the busier holiday quarter, but given that the figure represents more than 10 percent of Apple's retail workforce, it seems likely that a number of those employees were let go.
That gibes with other figures that Apple's disclosed about its retail segment, too. For example, the company said that it opened only one store in the second-quarter of 2009, compared with four in the year-ago quarter. In looking forward to the rest of the year, CFO Peter Oppenheimer said that Apple planned to open a total of 25 stores in fiscal 2009, half of which would be outside of the country. That's just half of the 50 stores Apple opened in 2008. Retail revenue was down year-over-year as well, going from an average of $8.5 million per store in the second quarter of 2008 to an average of $7 million per store in this past quarter.
Retail is an expensive segment for Apple, as it requires not just hiring more workers than the company would otherwise employ, but also necessitates long-term investments like property leases and expenses like store construction and maintenance. In an environment where consumer spending has dropped off, that could make the retail segment particularly vulnerable.
Despite that, Apple has yet to close a single one of its retail outlets in the almost eight years that they've been operating. By all accounts its retail stores have been an incredible success in that time, attracting millions of customers and generating substantial revenues for Apple. However, the company's investments there are not without their risks, as Apple notes in the same 10-Q document, saying "The Company would incur substantial costs if it were to close multiple retail stores and such costs could adversely affect the Company's financial condition and operating results."
It seems that Apple has instead focused its cost-cutting measures on personnel to help avoid closing stores, but it's not inconceivable that we could see our first Apple Store shutter if the economy continues in the direction that it's been going.