At a Glance
Expert's Rating
Our Verdict
[Editor's note: The following review is part of Macworld's GemFest 2009 series. Every day until the end of June 2009, the Macworld staff will use the Mac Gems blog to briefly cover a favorite free or low-cost program. Visit the Mac Gems homepage for a list of past Mac Gems.]
The new Map feature in iMovie '09 taps a database of 4,000 cities, airports, and other locations. If the location you want to use isn't in that list, version 8.0.1 of the software added the capability to enter your own latitude and longitude coordinates. But what if you want to use the same custom location several times?
One option is to find the text file (WorldLocations.txt) that stores all of the locations and edit it manually. A better approach is to use Craig Stanton's iMovieLocationEditor. The utility edits iMovie's text file faster than you can say, "I can't remember how to open an application package."
In Google Earth ( ), enter the location you want to find in the search field. Then switch to iMovieLocationEditor and click the button labeled "Get coordinates from Google Earth." Next, enter a place (such as city and state); you can also enter information in the Area and Country fields. (Of course, you can enter the coordinates directly without Google Earth if you get them from another source.) Then, click the Insert into iMovie button. When you restart iMovie, the new location comes up when you perform a search in iMovie's Map Inspector.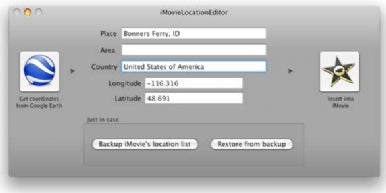 iMovieLocationEditor also lets you make a backup of iMovie's source file, which is a good thing to do, and restore that version of the file in case you need to undo your additions. Stanton also offers a copy of Apple's source file for download as a last resort.
When I first used the utility I was confused, thinking that the application can perform the coordinate search instead of Google Earth; I skimmed over the instructions posted on the program's Web site too quickly. iMovieLocationEditor is a simple utility that works exactly the way it says.
Want to stay up-to-date with the latest Gems? Sign up for the Mac Gems newsletter for a weekly e-mail summary of Gems reviews sent directly to your inbox.
Our 186-page Mac Gems Superguide is a veritable greatest hits of Mac Gems. It's available as a PDF download, PDF on CD-ROM, or as a printed book. Learn more about the Mac Gems Superguide.
[ Jeff Carlson is the author of the forthcoming iMovie '09 & iDVD: Visual QuickStart Guide (Peachpit Press).]