AquaFold on Monday announced the release of Aqua Data Studio 7.5, an upgrade to its data administration software. It cost $400; upgrades are priced at $140.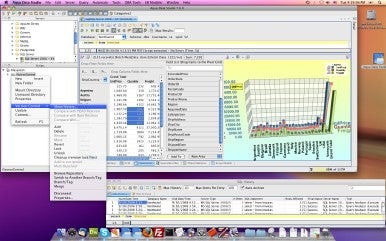 Aqua Data Studio makes it possible to manipulate multiple databases using a single interface. It works with Oracle, DB2 for LUW, DB2 for iSeries, Microsoft SQL Server, MySQL, Sybase, Informix, Apache Derby and PostgreSQL on Mac OS X, Windows, Linux, Solaris and Java.
The interface is now twice as fast, according to the developer, and has faster launch time. memory consumption when retrieving large text and grid result sets has been reduced by 40 percent. A new File Search tool has been added that lets you search through the entire contents of files in version control repositories. Two new editors have been added for Java and JavaScript. Nine additional chart types have been added, including Clustered Column Chart, Stacked Column Chart, Clustered Bar Chart and more. Support has been added for Subversion 1.5 and 20 other enhancements have been made to Visual Editing, the ER Modeler, DBA Tools, SQL debuggers, Schemer comparisons and SQL history.
Aqua Data Studio requires Mac OS X 10.5 or later and Java 1.6 for Mac OS X Update 1.
Note: When you purchase something after clicking links in our articles, we may earn a small commission. Read our affiliate link policy for more details.