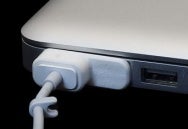 Thought Out has released the MagStay Uni, a version of the company's MagStay accessory compatible with the latest "unibody" MacBooks and MacBook Pros (but not the MacBook Air). An update to Though Out's older MagStay Pro—we covered that version last year—the MagStay Uni is a plastic collar that fits around your laptop's MagSafe jack, using the adjacent Ethernet port for support, and makes it more difficult for your power cable to detach. A small opening in the collar lets you view the charging light on the MagSafe connector.
The idea behind the MagStay is that Apple's MagSafe connector, designed to prevent damage to your laptop by allowing the power cable to easily disconnect under strain, makes it too easy to accidentally disconnect. The MagStay avoids such accidental disconnections in situations where it's safe to circumvent the MagSafe's protection.
The $18 MagStay Uni is available now from Though Out Web site.