On Friday, I reported that Apple's latest 10Q filing with the SEC noted a reduction in the number of full-time retail employees to the tune of more than 10 percent. The story drew harsh criticism from some quarters, particularly for what some believed was a failing to distinguish between full-time employees and full-time equivalents.
The latter is not necessarily a single full-time employee, but rather an accounting figure representing the amount of work done by a theoretical full-time employee: in such a case, for example, two or more part-time workers could equal one full-time equivalent.
As I said in the piece, the reason behind the apparent reduction was unknown. There was a possibility that some employees had their hours decreased, or that it was a seasonal shift from the busy holiday season. While much of this matter could have been cleared up by Apple, the company did not return a request for comment.
In search of more context, I spent some further time looking over the numbers in Apple's financial documents for the last few years. The matter is somewhat complicated by inconsistencies on Apple's part—for example, while in recent years the company has reported retail employee numbers using the "full-time equivalent" terminology, previously the filings often simply referred to the number of total retail employees. Furthermore, I discovered at least one quarterly filing that lacked any record of the number of employees, making the data difficult to track for the years before 2006.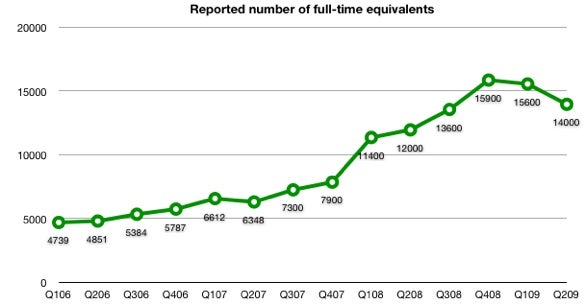 Still, if you look at the numbers compiled here, it is worth noting that this number has historically trended upwards, as Apple has continually opened more retail stores. While this is not the first quarter that the employee figure has dropped, it is not a strictly seasonal occurrence: there was no similar drop between the first and second quarters of 2008, for example, or between those quarters in 2006. A similar drop was shown between the first two quarters of 2007, but the reduction was much smaller—only about 4 percent—compared to the more than 10 percent of the most recent quarters.
Of course, the number of retail stores that Apple has opened over the last few years makes it harder to directly compare those numbers. However, if you calculate the number of average full-time equivalents per store over the same time period, you do see similar drops between first and second quarters in 2006 and 2007, though again to a much smaller degree than the most recent reduction (and, again, 2008 doesn't show a similar decline). According to these figures, Apple is now back to the same level of full-time equivalents per store that it had in the first quarter of 2008.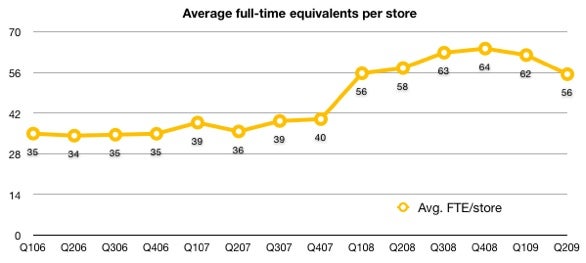 As I acknowledged in the original piece, we don't know what precisely has caused this apparent reduction. There could be a shift of full-time employees to part-time employees, there could be seasonal attrition, and so on. But there is also the matter of a reduction in retail growth: Apple opened only one store in the most recent quarter, its lowest number in the period I examined, and well below the average of the roughly 8 stores per quarter that the company has been opening since it launched its first outlets in the third quarter of 2001.
The current economic climate has showed that consumers are spending less, so it wouldn't be surprising if Apple were looking to reduce expenses to compensate, whether by laying off full-time employees, shifting full-time employees to part-time employees, or reducing the hours of part-time employees.
In the end, there's no way to know exactly what happened here or why without Apple itself chiming in. Unfortunately, the company has shown that, as with most other areas of its business, it's reluctant to discuss such matters publicly, such as in March when rumors swirled over layoffs from Apple's enterprise group.
Meanwhile, there's little to do but keep an eye on the figures and see what transpires over the next few quarters.