Travelers used to need a guidebook, map, local newspaper, and much more just to cover the basics of getting around an unfamiliar city. Today, location-aware apps on the iPhone can not only replace all your city guides, they can do a better job of helping you interact with the world around you-whether you're just in town for the weekend or you've lived there your whole life.
Find Nearby Friends
Make Your Escape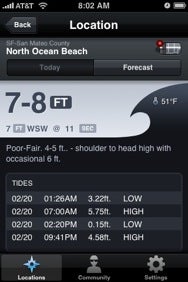 Need to get away from it all? Let your iPhone point you in the right direction. If you want to start your day on the water, Oakley's free Surf Report not only helps you find the closest break, it also tells you how big the waves are that day. Harold Mueller's free Tides queries the closest tidal-monitoring buoys and stations to give you location-specific times for high and low tides, moon phases, sunrises and sunsets, and even currents, so you can plan the best time to go for a swim or a walk on the beach. Want to hit the slopes instead? Ski-report apps like The Snow Report by The North Face deliver the conditions at the closest slopes, and even give you maps and more for finding your way around the mountain. And if you get the urge to ruin a perfectly good walk, Harndmark's $5 Golf, by Zagat, provides locations and reviews for more than 1,200 golf courses nationwide, sorted by location, so you can find a fairway and reserve a tee time with the push of a button.
Avoid Traffic Snarls
Conjure a Cab
Tired of waiting on a street corner hoping a taxi will drive by? RideCharge's free Taxi Magic will find the closest cab, place an order with the cab company, and show dispatch updates as the taxi makes its way to you. It even has a cancel order function, so you don't have to sit and wait for the cab you called if another passes by first.
Get a Personal Trainer
Be Your Own Tour Guide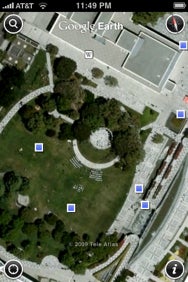 When you're wandering a new city-or showing off your own neighborhood to out-of-town guests-your iPhone can offer up interesting details about your surrounding environment. The free Google Earth app, for example, will zoom in on your current location, show you photos from points of interest-so if something you see catches your fancy, you can seek it out-and highlight nearby locations with an associated Wikipedia entry. This is a great way to learn unusual facts about historic buildings and landmarks without having to squeeze onto a crowded tour bus.
Get Truly Local News
If you want breaking headlines from the neighborhood, the free AP Mobile News Network app will fetch news from your current location. However, sometimes events move faster than even the Associated Press can keep up with. If you want to know, for example, where all that smoke is coming from, or why a line is forming outside the building across the street, atebit's $3 Tweetie lets you filter Twitter posts by location, so you can view all the tweets posted within a 2km radius even if your contacts didn't write them. During times of crisis-or just at large local events-it can be an invaluable tool for keeping informed.
[Mathew Honan is a freelance writer and a contributing editor with Wired magazine.]
Note: When you purchase something after clicking links in our articles, we may earn a small commission. Read our affiliate link policy for more details.