The iOS 17 will be available to install on iPhones today. But should you rush to install iOS 17 as soon as it arrives? Here's a quick look at how iOS 17 compares to iOS 16 and what you can expect when you upgrade.
iOS 16 vs iOS 17: Which iPhones can install iOS 17?
Before you decide whether you should upgrade to iOS 17, you need to know whether you can upgrade to iOS 17. The main headline devices that don't make the cut this year is the iPhone 8, 8 Plus and iPhone X. The following iPhones get support for iOS 17, but some features are only for iOS 12 and later, including some FaceTime and autocorrect features:
iPhone 15
iPhone 15 Plus
iPhone 15 Pro
iPhone 15 Pro Max
iPhone 14
iPhone 14 Plus
iPhone 14 Pro
iPhone 14 Pro Max
iPhone 13
iPhone 13 mini
iPhone 13 Pro
iPhone 13 Pro Max
iPhone 12
iPhone 12 mini
iPhone 12 Pro
iPhone 12 Pro Max
iPhone 11
iPhone 11 Pro
iPhone 11 Pro Max
iPhone XS
iPhone XS Max
iPhone XR
iPhone SE (2nd gen or later)
iOS 16 vs iOS 17: What are the major new features?
On the surface, it might not seem like there are many major new features in iOS 17, but looks can be deceiving. There are lots of little changes all throughout the new update that make iOS easier, faster, and more pleasant. Here are the biggest changes coming to your iPhone:
Contact Posters
iOS 16 introduced the new Lock Screen layout, which users could customize to make the iPhone feel more personal. Now, a similar approach is coming to contacts in iOS 17. The new Contact Posters feature allows you to create personalized images that will appear on the iPhone of people you call. Much like the Lock Screen, you can add text, change the font and color, then place it in the foreground or background, making it blend in seamlessly with the image. You can also change the background color, to customize things further, plus there's support for memoji as well as photographs. To keep things consistent, Contact Posters will also act as the main images in the Contacts app.
See: How to create and customize your Contact Poster in iOS 17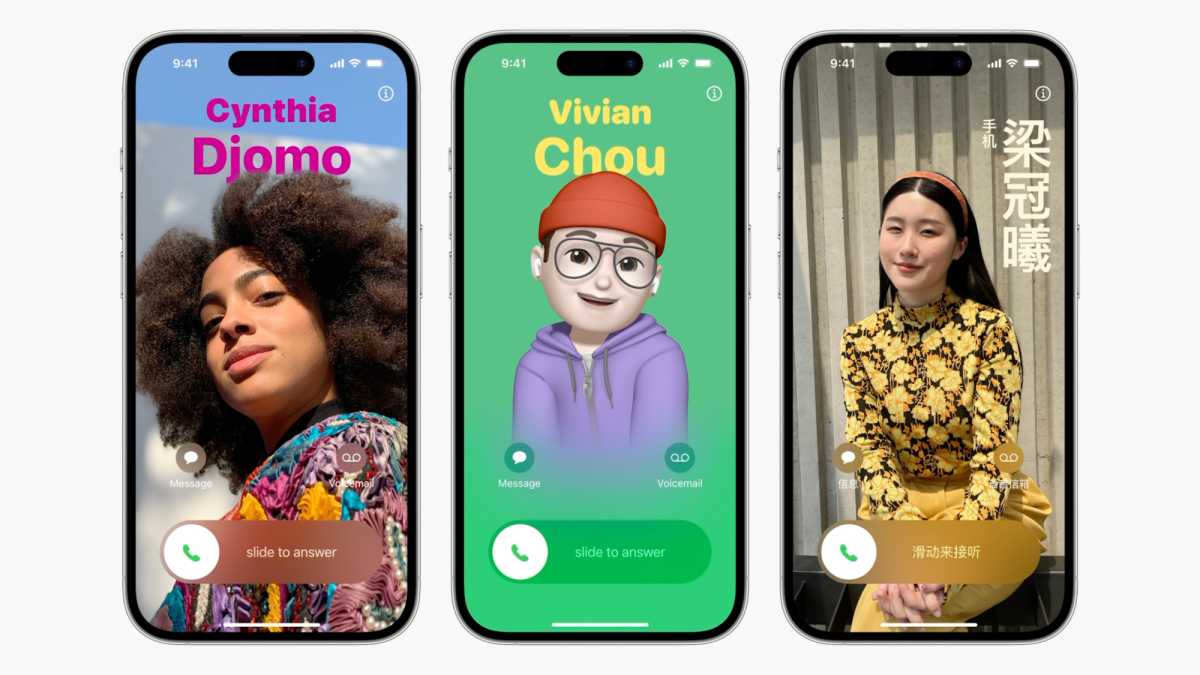 Foundry
Live Voicemail
One very interesting update in iOS 17 is the introduction of Live Voicemail. This clever feature displays a live text transcription of a message as it's being left on your iPhone. So, if you're in a meeting or out and about or just want to know if the call that's coming in is important or not, just wait and you can see what the caller has to say. Then, if you want, you can pick it up in mid-voicemail.
Read: How to use Live Voicemail in iOS 17.
FaceTime
Another new addition to iOS 17 is being able to leave voice or video messages for someone on FaceTime if they're not free to take your call. Just record your audio or video clip, and the recipient will be able to see and hear it when they have a moment.
Apple also adds new reaction animations during calls that can be triggered via predefined gestures. You'll also be able to start or transfer calls from your iPhone or iPad onto an Apple TV (using Continuity Camera) so you can enjoy calls on the largest screen in the house.
Here's how to take FaceTime calls on an Apple TV.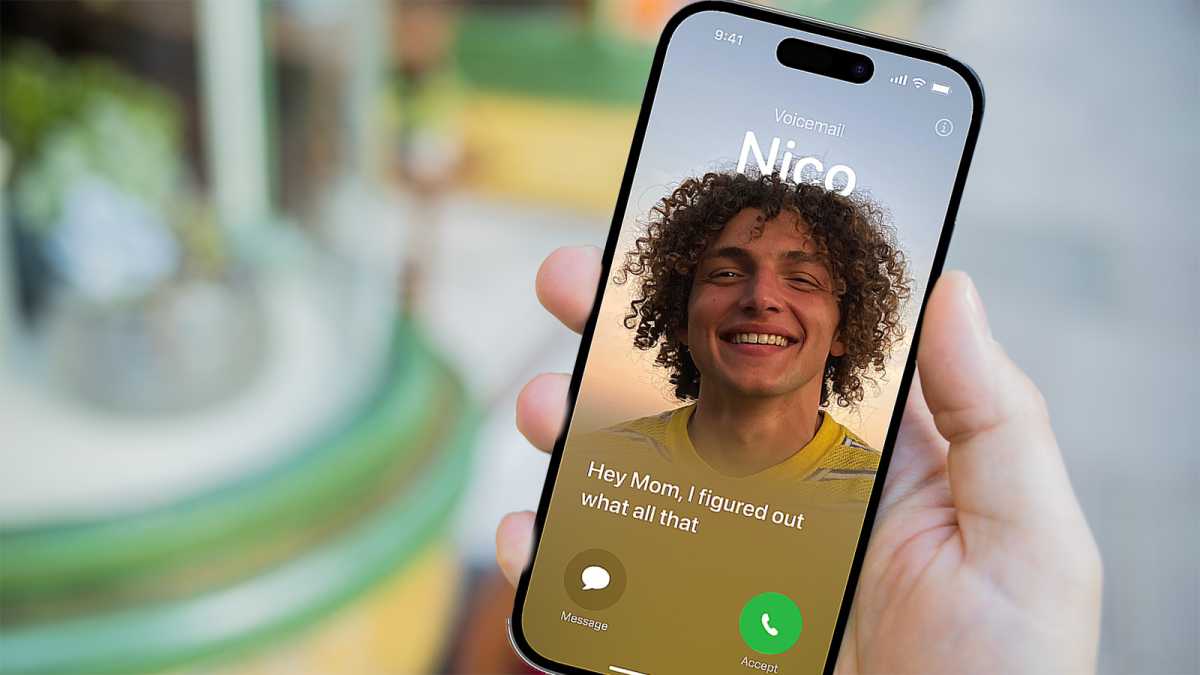 Apple
Messages
iOS 16 added a variety of new features to Messages, including the ability to edit sent messages or delete them entirely before the recipient could read them. You can also mark a conversation thread as unread in order to remind you to return to it later.
In iOS 17, Apple beefs up the app even more with the addition of new search filters that allow you to enter multiple search terms so you can track down that elusive message quickly and easily. Catch-Up is great if you find you regularly join group conversations mid-way through, as it instantly takes you back up the thread to the first message you missed. If you want to reply directly in-line to a message, then swiping on it now triggers the reply option. Taking its cue from Live Voicemail, you'll also have the ability for the app to transcribe and display any voice messages you may have received.
Personal safety is another feature that has been baked into the iOS 17 version of Messages, with new ways to let people know where you are. In-line Location will allow you to share your current location directly in a conversation, rather than requiring you to exit and go to the Maps app.
Foundry
There's also an entirely new feature called Check In. This lets you set up a tracker that tells a family member or friend when you get home, as it automatically detects the location and fires off the message. This is great if you're traveling home alone at night and want people to know you're safe. Check In estimates how long the trip home should take and monitors your progress to see that you're ok. The route is shared with the other person, as is the battery level of your iPhone and the strength of the cellular signal. All of this is encrypted, of course, to preserve your privacy.
Apple
Finally, Stickers have been upgraded in Messages, as a new drawer gathers them all together in one place, including Memoji and Emoji. You can apply them in-line to messages or drag them and stick them anywhere in the conversation. You can also create animated stickers using elements of Live Photos as well as lifting parts of images to make stationary stickers too. Looks like lots of fun.
NameDrop
Making it easier to share information between devices has been a focus for the last few iterations of iOS. For instance, iOS 15 saw the introduction of SharePlay, which was then incorporated into Messages with iOS 16. This time around, iOS 17 takes this up a notch by making it a simple case of holding two iPhones (or an iPhone and Apple Watch) near each other to share contacts, photos, and videos or synchronize the playing of a music track. The best part is the title given to sharing contacts – NameDrop.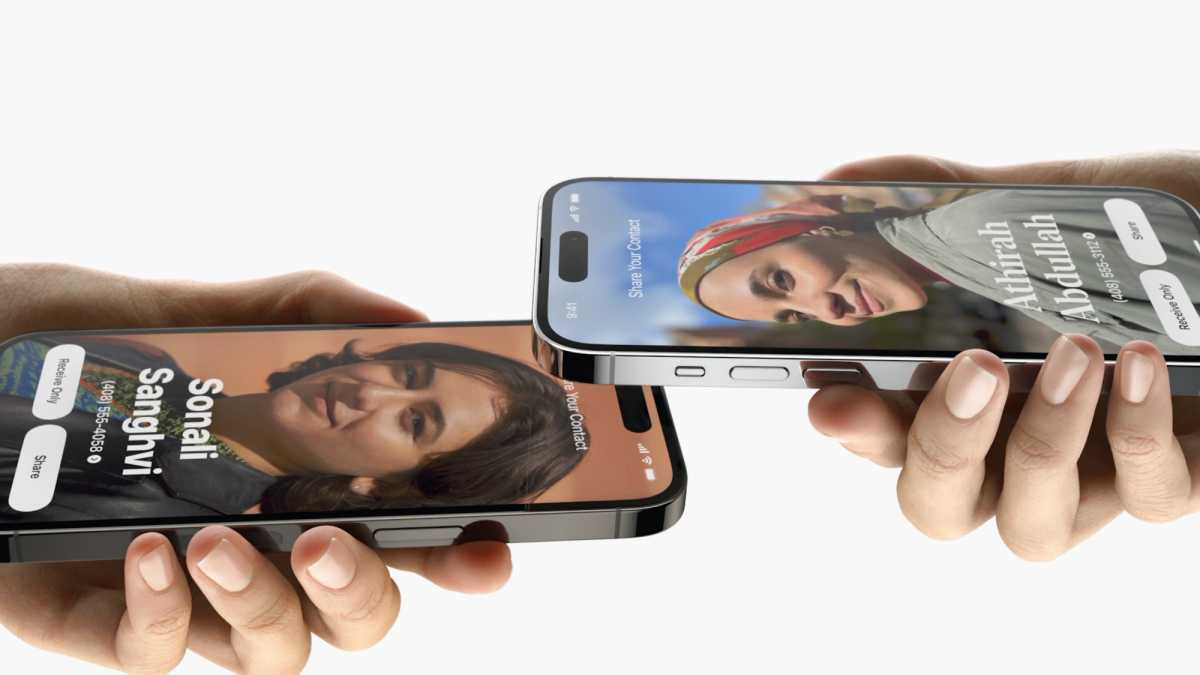 Foundry
Journal
One iOS 17 exclusive that we're looking forward to is the new Journal app. This, as the name suggests, is a place where you can record your thoughts on the device you always have in your pocket. It's not just a notepad though, as the app uses machine learning to suggest potential writing prompts from your location, activities, or playlists. For example, if you've been on a trip, then Journal will collate your route, what you listened to, and the photos you took, so you can include them all in an entry.
Foundry
StandBy
iOS 17 has a new feature that turns your iPhone into a smart display when charging and turned into landscape mode. You'll get a new full-screen experience that shows Live Activities, widgets, Siri results, and personalized layouts. And if you have an iPhone 14 Pro or Pro Max, you'll be able to see it when your iPhone is locked thanks to the always-on display. See: How to use StandBy to make a smart home hub
Other new features
iOS 17 adds lots of new Ringtones and Text Tones
iOS 17: How to play daily crosswords with Apple News+
iOS 16 vs iOS 17: Will iOS 16 continue to get security updates?
While iOS 17 may be the hottest thing in town when it comes to iPhones, that doesn't mean that iOS 16 will be left in the dust. Apple has an excellent record for keeping older versions of the OS updated with security patches. This means that even if your iPhone can't make the jump to the new OS or you just prefer to keep things as they are, iOS 16 will continue to be kept safe with security patches for the next 12 months, and will receive important updates beyond that.
iOS 16 vs iOS 17: When will iOS 17 be available?
Apple has a long history of launching its latest version of iOS alongside the latest iPhones. With this in mind, we think you'll be able to download it on Monday, September 11 or Monday, September 18, a little less than a week after the new iPhone 15 range is revealed.
iOS 16 vs iOS 17: Should you upgrade in the fall?
There's plenty of good stuff coming in iOS 17, which makes it seem such a good idea to upgrade. Obviously, it's free, but with the addition of the new Live Voicemail, Check-In, and easier sharing, not to mention the entirely new Journal app, we'd say this should be a definite step up from iOS 16. If you want to wait a version until all of the bugs are squashed, we understand, but you should press that Download and Install button sooner than later.
For more information on iOS 17 as it near release, take a look at our iOS 17 superguide.