I'm embarrassed to admit that, at first, I hated Eliss. I had just paid $4 for Steph Thirion's game, with its trippy description about maintaining "harmony in an odd universe made of bendable planets." But when I launched the app, the art looked like it had been drawn in ClarisWorks, the instructions were nearly indecipherable, and I had no idea what the heck I was supposed to do.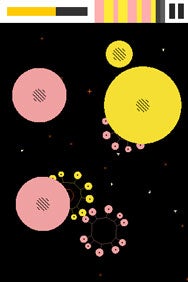 Once you do understand the game, though, it's awesome.
Planets of varying colors are placed on the universe of your iPhone's screen. The most important rule is this: Don't let planets of one color touch the planets of any other color. If you do, your health meter starts dropping faster than if you catch swine flu. You can combine like-colored planets to form bigger ones, and you can split planets, amoeba-reproduction style, to break them into two smaller ones.
You need to form planets that are the right size to fit inside "squeesars," which explode the planet they contain with a supernova, sending stardust into the ether. Tap the floating stardust, and your health starts climbing again. Each of the 20 levels requires that you vanish an increasing number of planets to proceed.
What Eliss lacks in help text, it more than makes up in well-implemented multitouch game play. The music and sound are perfect, and the controls are intuitive. The pace gets manic quickly, and I'm more familiar with the Game Over screen than I care to admit. Eliss is addictive, though, and I just keep on playing.
Both your fingers and your brain will get stretched as you try to keep up with the ever-expanding universe.
Eliss is compatible with any iPhone or iPod touch running the iPhone 2.2.1 software update.
[Lex Friedman is on his own planet at his blog.]