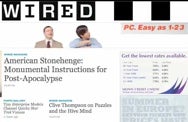 Apple is keeping the pressure on Microsoft with its latest "Get a Mac" Web ad, which is being displayed on websites like Wired.com.
In the ad, PC explains to Mac that PCs are also easy to use. In fact, they're as easy as 1-23. Get it? Not 1-2-3, but one-through-twenty-three! Okay, so it's not going to have you doubled over with laughter, but it's clever nonetheless, especially when you read the 23 steps:
Remove unneeded bloatware
Configure security settings
Download and install OS security patches
Restart
Download / install extra security programs
Restart
Download / install drivers for peripherals
Restart
Remove optional Windows components
Update new virus list
Run full system virus scan
Update new malware list
Run full system malware scan
Download / install application updates
Restart
Clean out system registry
Repair corupt system registry
Defragment hard drive
Free up disk space
Scan disk for errors
Run system file checker
Read online instruction manual
Cross fingers
Ouch! Apple was going for the jugular on that one, especially number 23. Nevertheless, reading through this list almost brought back horrific flashbacks of my days as a PC user. The endless restarting, the driver issues, the malware—I break into a cold sweat just thinking about those dark times. Hopefully this new ad will help guide other poor lost souls to the light. Check out the full video below.
[Via MacDailyNews]
Read more…