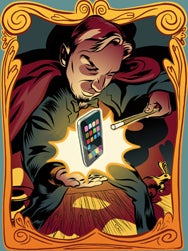 Behold the iPhone. It's so simple on the surface; merely swipe your finger, and voila!—e-mail, Web browsing, calendars, contacts, and more. But there's much more to the iPhone than meets the eye. There are clever ways to use those built-in tools to do things that Apple never intended (or, at least, never deigned to tell us about). And there are all those third-party applications that can extend the iPhone's powers even further.
Over the next couple of days, we'll share some of our favorite tricks and tips for using the iPhone in unexpected ways. Looking for ways to keep files, notes, to-dos, events, and other data synchronized among multiple iPhones, Macs, and other users? We've got em. We'll also show you how to take maximum advantage of the iPhone's GPS powers and how to turn the phone's built-in camera into a personal shopper or wide-angle lens. And if you can't stand to be out of the loop for a moment, we'll help you cram as much media from blogs, radio, and news feeds as possible onto your iPhone. These are just a few alluring hints of the remarkable power that lies in your hands, waiting to be tapped.
Illustration by Jack Black.