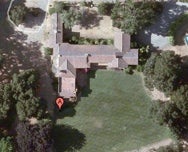 On Tuesday night, the Woodside Town Council will consider the issue of whether or not to allow the demolition of Apple CEO Steve Jobs's 17,000 square foot mansion. Despite the property's size, grandeur, and historical nature, Jobs has described it as "one of the biggest abominations of a house I've ever seen."
Jobs currently lives in Palo Alto, and hasn't lived at the Woodside location since the early 1990s, although apparently it was rented out to the Clintons while Chelsea Clinton was attending Stanford University. He's owned the house, which once belonged to San Francisco copper magnate Daniel C. Jackling, since 1984. Apparently, Shirley Temple and Richard Nixon have stayed there, too—presumably not at the same time, though that would have probably been a hell of a dinner party. Today, the historic property is in a state of massive disrepair. Jobs wants to tear the immense building down and build a smaller, more modest house on the plot.
According to a Woodside staff report, Jobs first applied for a demolition permit in 2001. At the time, Woodside's consultants said that the property was a "historic resource," and the town went forward with an environmental impact report. By 2004, Jobs received his demolition permit, but that was subsequently challenged in court on similar grounds of historical significance and held up in appeal.
By June 2008, Jobs again renewed his application for a demolition permit, this time providing new cost information that had been previously lacking and the council is now due to consider the matter once again.
Three photographers recently published some photos of the deteriorated interior of the house at 460 Mountain Home Road in Woodside. It's not pretty.
[Image via Google Maps]