Finding a time to take care of e-mail isn't easy, but that's where Talk Mail Pro from Apps That Rock comes in. By reading messages aloud, Talk Mail Pro promises to "increase productivity by checking your messages while on the go."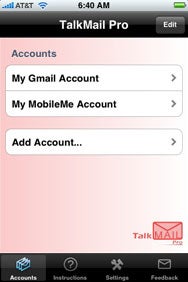 To start the voiceover reading, simply select the appropriate e-mail account. The app will then go through all of the unread messages in the inbox. Talk Mail Pro uses a female voice for menu commands, while a male voice handles message reading. The male voice used for reading e-mails is superb and easily surpasses the quality of most other electronic voices.
Talk Mail Pro supports multiple mail accounts as well as advanced voice control. There are also multiple finger gestures for skipping, archiving, and deleting messages.
Talk Mail Pro functions as intended, and setting up the application was a breeze. The finger gestures are a creative and easy way to handle e-mail functions without having to look at a menu.
Still, there are issues. If you have an overflowing inbox, trying to find the messages you want to hear in Talk Mail Pro is practically impossible. Unfortunately, there is no inbox view, and you don't have the option of using filters to catch certain e-mails. For instance, it would be nice if you could have all e-mails from your boss tagged to be read in Talk Mail Pro, while excluding the annoying forwards from your buddies. Even having the app read e-mails from a specific folder would be a nice workaround.
Some users may also blink at Talk Mail Pro's price tag. As this review was posted, the app sells for $6 for 12 months of connectivity, but that's apparently a sale price; normally, the app costs $10. Apps That Rock also offers a free lite version that only offers two months of service, instead of the year of service that comes with the Pro version. Also, Talk Mail Pro uses a more sophisticated text-to-speech engine for a more natural speaking voice than what you'd get with the free version, according to Apps That Rock.
If you have no problems with the price tag and can get past the inbox-management problems, Talk Mail Pro is a good product that does an amazing job at reading e-mails. Still, it could stand to add a few more features and drop the price.
Talk Mail Pro is compatible with any iPhone or iPod touch running the iPhone 2.x software update.
[ John Fuller is a freelance designer and writer from Texas.]