At a Glance
Expert's Rating
Our Verdict
[Editor's note: The following review is part of Macworld's GemFest 2009 series. Every day until the end of June 2009, the Macworld staff will use the Mac Gems blog to briefly cover a favorite free or low-cost program. Visit the Mac Gems homepage for a list of past Mac Gems.]
Think of rooSwitch as an app that lets you perform user switching at the application level. Instead of logging in and out of different user accounts on your Mac, rooSwitch lets you switch users for only one app at a time by switching what rooSwitch calls Profiles. Created for beta users and software developers to create multiple user scenarios, rooSwitch is evolving for use by typical users as well.
For example, I have a group in my Address Book that contains e-mail addresses for mailings. I created a user account to separate the e-mail group from my regular Address Book contacts, and used rooSwitch to switch between the two Address Book accounts. (I must remember to have the proper profile open when I sync my iPhone.) You can use rooSwitch to manage proxy settings in Firefox, or to switch Final Cut Pro setups. You can also use rooSwitch to manage iPhoto libraries but, due to the issues of its large libraries, that gets complicated— iPhoto Library Manager is better designed for that.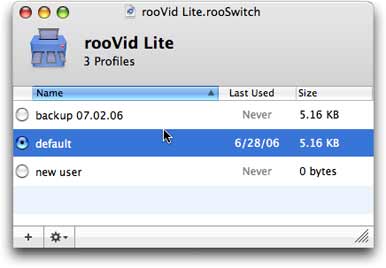 To set up a first new Profile for an application, you drag the application's icon to the rooSwitch window or onto the rooSwitch Dock icon. You then create a Profile, which automatically reflects the current state of that app. Next, to create a new scenario, start a new empty Profile, then click the new profile name and allow the app to quit and re-launch. This presents the app as if you were using it for the first time, so you can set it up for your other situation. Another option is to duplicate your existing Profile and just make changes instead of starting from scratch. To switch Profiles, the rooSwitch window for each managed application must be open, or you can launch its file in Application Support.
RooSwitch works with nearly all programs, supports Automator and AppleScript, and lets you view multiple rooSwitch documents (application controls) simultaneously.
RooSwitch is a powerful application. It can be an excellent tool for developers and beta testers. However, it's not for novices. If you understand your Mac or work with someone who does, you might create some very helpful workflows with it.
Want to stay up-to-date with the latest Gems? Sign up for the Mac Gems newsletter for a weekly e-mail summary of Gems reviews sent directly to your inbox. You can also follow MacGems on Twitter.
Our 186-page Mac Gems Superguide is a veritable greatest hits of Mac Gems. It's available as a PDF download, PDF on CD-ROM, or as a printed book. Learn more about the Mac Gems Superguide.
[Deborah Shadovitz is a Web designer and the author of Adobe GoLive 5 Bible (IDG Books, 2001). She also penned Mac Design's GoLive column, and was a contributor to SBS Design.]