Adobe on Wednesday released an update to its InContext Editing service, the Web content maintenance tool introduced last fall in conjunction with Dreamweaver CS4. Version 1.5 of InContext Editing offers simplified administration and complete editing capabilities within the browser. InContext Editing is cross-platform and works with the latest versions of Safari, Firefox, and—for Windows users—Internet Explorer.
"It's a self-service approach to the Web site," said Heidi Voltmer, group product marketing manager at Adobe. "This is a completely hosted online service that allows clients to handle their own updates within the browser. It's great for small businesses, non-profits, and schools because it gives control to the clients for non-technical changes such as text and static images, and lets them update their Web sites as needed."
InContext Editing lets Dreamweaver designers designate editable areas within their Web pages that non-technical clients can update in the browser from any location—without having to install special software. It operates much like any other word-processing software clients are likely familiar with.
It works like this: The site administrator sends an invitation via e-mail to the client inviting him or her to update the site. The client has access only to certain sections of the site, so the client can change the content without breaking the design.
"This is the pain point for our paying customers," Voltmer said. "They want to spend time designing new Web pages. They don't want to be the person to go in and change the contact information and update the HTML."
Within Dreamweaver CS4 designers can also specify editing options and define CSS styles that clients can use. Web designers who create sites with Dreamweaver CS3 or earlier can also access InContext Editing to assign editable regions through the browser. However, their access will be limited in that they won't be able to get the full editable region functionality as those designers who create their sites in CS4, according to Adobe.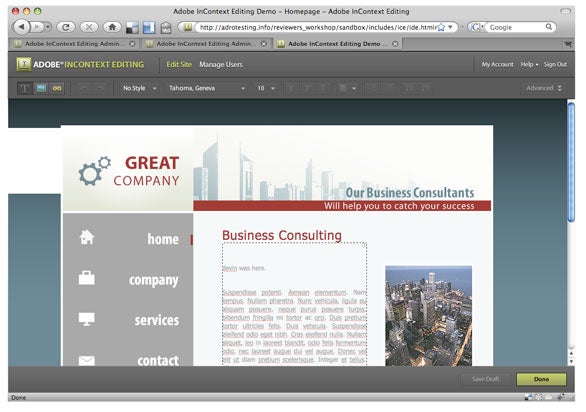 Adobe says that InContext Editing is popular, and that's one of the reasons it is offering this update. However, there are no public figures on how many people are actually using the service.
Right now, the service is available only in North America to English-language customers, and while it supports text and static images, it will not handle video or other rich multimedia. For that, you'll still need to use Contribute, the desktop client Web-updating tool.
Voltmer said that Contribute CS4 continues to be available for enterprise clients and those whose systems include firewalls, advanced applications, rich media, and complex administration. The two client-based updaters are designed to co-exist, and target different audiences.