At a Glance
Expert's Rating
Our Verdict
[Editor's note: The following review is part of Macworld's GemFest 2009 series. Every day until the end of June 2009, the Macworld staff will use the Mac Gems blog to briefly cover a favorite free or low-cost program. Visit the Mac Gems homepage for a list of past Mac Gems.]
Ever have one of those moments where you download photos to your Mac and then delete the originals, only to find that some didn't copy over? Rather than curse or cry, just use Klix. Whether you've deleted photos, reformatted your media card, or had a card go bad, Klix recovers photos and movie files despite the vacuous state your media card appears to be in.
The software works with practically any USB or FireWire camera or media reader and can recover all popular image and video formats. Just insert the media card into your camera or reader and connect it to your Mac, fire up Klix, click Start, and Klix begins scouring the card for lost photos and displays its findings in the Image Recovery Window.
I shot a couple dozen pics on a 1GB Compact Flash card using two cameras, erased a few images on each, connected one camera to my Mac, deleted the rest of the images, and reformatted the card. I then mounted the card using a media reader to see what Klix could find. For a few minutes, I watched the progress bar creep up without a single photo appearing and got really nervous when it reached the end. But it wasn't done yet. After another process, images began to pop up.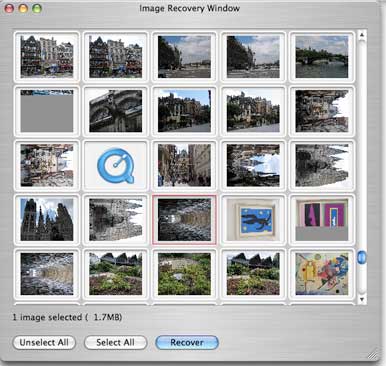 First came all the shots I'd just snapped—then came my Christmas photos, my trip to New England from last fall, miscellaneous other snapshots, and even shots from a 2007 European vacation. But it kept going…random JPEGs, TIFFs, Raw files, and QuickTime movies cropped up as far back as five years ago, when I shot a series of images for a camera review. It was a surprising trip down memory card lane—all 385 images worth, though a few were incomplete or blank, which is to be expected. (According to JoeSoft, Klix will not recover pictures on xD memory cards after they've been formatted in an Olympus or Fuji camera.)
When Klix is done, just drag and drop any thumbnail onto your desktop to rescue the file, or select what you want in the window and click Recover. I also unleashed Klix on an old SD card just to see what used to be on it, and experienced the same giddiness as I watched past memories resurface. While I didn't have any corrupt cards to test, Klix worked amazingly well to recoup everything I thought had been eradicated.
Want to stay up-to-date with the latest Gems? Sign up for the Mac Gems newsletter for a weekly e-mail summary of Gems reviews sent directly to your inbox.
Our 186-page Mac Gems Superguide is a veritable greatest hits of Mac Gems. It's available as a PDF download, PDF on CD-ROM, or as a printed book. Learn more about the Mac Gems Superguide.
[Kris Fong is a freelance writer.]