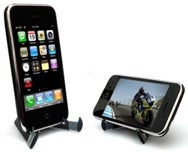 Have you ever tried watching a video on your iPhone or iPod touch and thought to yourself: "Man, I sure wish I had a stand that could hold up my i-device for me"? Maybe you were at a coffee shop or on an airplane and needed two free hands, or maybe you're simply an enthusiastic thumb twiddler. Either way, a company called Seskimo was reading your mind, but just this once, it's okay.
Seskimo makes a clever plastic stand for iPhone and iPod touch called the Crabble, which has recently been updated with a much better design that, like the original, still folds and fits in a wallet. The stand's legs can be extended or contracted to suit a variety of viewing angles and new rubber feet on the legs makes sure the stand doesn't slip and/or slide.
The Crabble accommodates both vertical and horizontal viewing quite well, as long as you don't use a case—there isn't much room for the extra plastic or rubber padding that most cases add. But if you (like me) live on the edge by not using a case, or you can quickly pop your device out of its protective shell, the Crabble is a versatile, highly portable stand for iPhone and iPod touch (okay, fine, I use an Invisible Shield on the display, but I hardly think that counts as a case). To see the Crabble in action, check out the video embedded below.
There are indeed a number of DIY alternatives that are cheap or free, but you also get what you pay for (trust me, I've tried them). For a mere $5, Seskimo gives you a choice of colors, solid construction, and crucial usability perks like rubber feet. The Crabble stand has won a permanent place in my wallet.
Read more…