At a Glance
Expert's Rating
Our Verdict
[Editor's note: The following review is part of Macworld's GemFest 2009 series. Every day until the end of June 2009, the Macworld staff will use the Mac Gems blog to briefly cover a favorite free or low-cost program. Visit the Mac Gems homepage for a list of past Mac Gems.]
Apple's iPhoto slideshow presentations are nice—if you're not suffering from Ken Burns effect burnout. Keynote gives you more transitions and provides themes that work well for corporate presentations. But if you're looking to create slideshows that are more engaging, fun, and eye catching, PulpMotion produces professional multimedia presentations that are anything but ordinary.
PulpMotion uses motion themes to add character to slideshows, letting you create a more visually stimulating showcase for your photos and videos. It comes with a bunch of themes, many of which include variations; most are surprisingly useful. You get everything from 3-D transitional effects, museum walkthroughs, and gallery spaces to cinema-style graphic treatments, 3-D animations, and themes for your vacation, holiday, wedding, and other photos. And, of course, the ol' pan-and-scan standby is in here too. More themes are available from the Aquafadas site.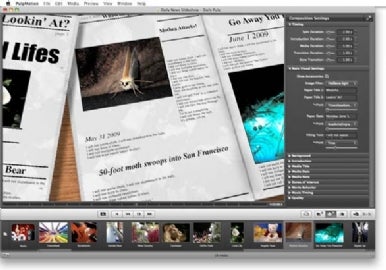 The interface is easy to use and taps directly into iLife for browsing and adding photos, music, and video, though you can also drag and drop media from the Finder. With video, PulpMotion will automatically turn down any music to half volume during the slideshow presentation and hold the next photo frame until your movie finishes playing—very nice. It can even tap into an iSight camera, letting you capture something on the fly to add.
The beauty of PulpMotion is the sheer amount of customization and control you have. Along with the usual duration settings, you can tweak the various elements within a theme, edit the motion, switch out graphics, show or hide graphical elements, add text to individual photos or specific themes, choose fonts, adjust type effects, and more. Once you've built your slideshow, you can export it as a QuickTime movie for the Web, iPod, desktop playback, broadcast (30 fps NTSC), or JPEG 2000 compressed.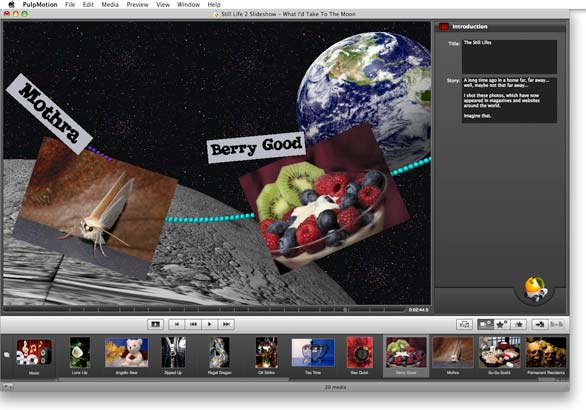 While PulpMotion performs well on Leopard and Tiger, there are a few minor bugs (more on the Tiger side) that need to be fixed. That said, PulpMotion is the perfect vehicle for showcasing your photos to the masses. I just hope people walk away remembering my pics more than the cool slideshow thematics that surround them.
Want to stay up-to-date with the latest Gems? Sign up for the Mac Gems newsletter for a weekly e-mail summary of Gems reviews sent directly to your inbox. You can also follow MacGems on Twitter.
Our 186-page Mac Gems Superguide is a veritable greatest hits of Mac Gems. It's available as a PDF download, PDF on CD-ROM, or as a printed book. Learn more about the Mac Gems Superguide.
[Kris Fong is a freelance writer.]