Matrox Video Products Group has announced the CompressHD for Mac, a new PCI Express (PCIe) expansion card that greatly speeds the encoding of H.264 video. It's coming in May with a suggested retail price of $495.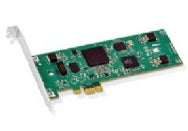 In a press release announcing the device, Lorne Trottier, president of Matrox, indicated that an 20-minute H.264 Blu-ray movie will take approxmiately 90 minutes to encode on an 8-core Mac Pro. With the card installed, that time is reduced to 18 minutes.
The first appearance on the Mac of Matrox's "MAX" technology, the CompressHD features its own dedicated hardware processor to speed up the encoding of H.264 video. It can be used for generating video for mobile device, the Web and Blu-ray discs, and works on systems with or without a video I/O device. It also integrates directly with Apple's Compressor software, part of the Final Cut Studio suite.
The low-profile, half-length card fits in all Mac Pros and Intel-based Xserve systems, and can create Blu-ray H.264 files that can be authored using Adobe Encore CS4 or Roxio Toast 10. It also supports Apple Qmaster, to help support multiple systems with a Matrox Max processing engine for distributed network encoding.