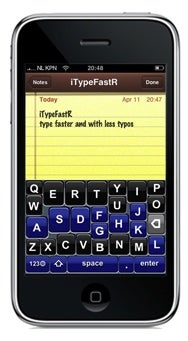 Having been an iPhone user for nearly two years now, I've heard pretty much every gripe there is to hear about the iPhone's onscreen keyboard—I've even agreed with a few of them. But it's not as if there's much in the way of alternatives. However, if you've jailbroken your phone, you might consider taking a gander at the new keyboard app iTypeFastR.
Despite the eponymous typo, the program promises to help you type faster and with fewer mistakes than the iPhone's own built-in keyboard. How does it accomplish this miraculous feat? Well, after what the developers say is "extensive testing," they've reconfigured and resized the keyboard so that the more frequently used letters—like "e," "r," and "t"—are larger than the less frequently used letters, like "q," "z," and "x."
It's an interesting theory, and maybe it does help to a certain extent—well, as long as you don't live in Zzyzx, California—but it's some of the app's other changes that I find more helpful, like moving the period key to the main keyboard and shifting the Delete key away from the Return key to help avoid hitting one when you meant to hit the other. Plus, dedicated emoticon keys: who doesn't want that? 😉
The iPhone's built-in keyboard does do a lot of this kind of optimization under the hood, dynamically readjusting how large the areas for letters are depending on what it predicts you're trying to type. But if you're frustrated with the iPhone's current keyboard, have a jailbroken phone, and don't mind spending $4, you can give iTypeFastR a shot.