At a Glance
Expert's Rating
Our Verdict
[Editor's note: The following review is part of Macworld's GemFest 2009 series. Every day until the end of June 2009, the Macworld staff will use the Mac Gems blog to briefly cover a favorite free or low-cost program. Visit the Mac Gems homepage for a list of past Mac Gems.]
If you find yourself inundated with a huge assortment of documents that are difficult to track, a document organizer application like EagleFiler can help you sort the mess.
EagleFiler presents you with a simple window divided into three parts, much like Apple's Mail program. The majority of the interface is used to display the contents of whichever folder or tag is selected in the sidebar on the left. To add a file or folder to EagleFiler, all you have to do is select the item in question and drag it either onto the application window, the drop box, or the Dock icon. EagleFiler allows you to manage several libraries at a time, making it easier to, say, keep your work-related data separate from the personal stuff.
If that sounds an awful lot like the Finder to you, you're right: it's essentially just another place for you to store any and all sorts of data. However, EagleFiler differs from the Finder just by not being the Finder–the fact that it's a separate application, one that you use to store information that doesn't seem essential right now but might end up being useful at a later date, makes you use it in ways that you'd never use the Finder. It's a vital tool for the digital pack rat. Yes, you could perhaps get away with using labeled folders in the Finder for this purpose, but EagleFiler puts a lot more power in your hands by facilitating the tagging and searching of all your stored data.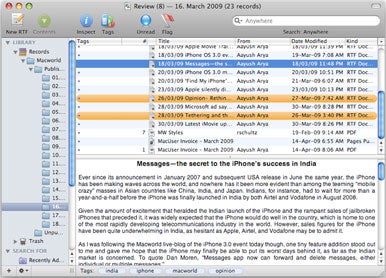 EagleFiler's versatility lies in its ability to accept a myriad number of files and formats. The application's tagging, note-taking, and searching capabilities make finding that one file you stored in EagleFiler a year ago and want to retrieve today a cinch.
Want to stay up-to-date with the latest Gems? Sign up for the Mac Gems newsletter for a weekly e-mail summary of Gems reviews sent directly to your inbox.
[Aayush Arya is a journalism student from India and a regular contributor to Macworld. His online haunts include his blog, Penned Thoughts, and his Twitter feed .]