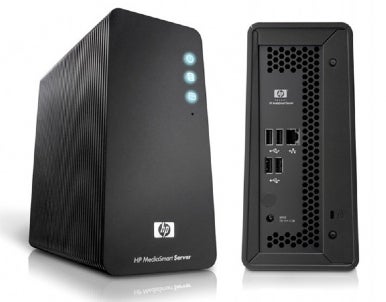 Hewlett-Packard Wednesday unveiled its latest Windows Home Server device, the MediaSmart LX195. This tapered model is slimmer and more graceful-looking than its cousins, the MediaSmart Server EX487 and EX485. But that's not the only reason to sit up and pay attention.
The LX195 is also the first Windows Home Server-based network device to run the Intel 1.6GHz Atom processor; Atom is already well-established as the chip found in netbooks, and in some compact desktop systems. This unit also packs 1GB of RAM and 640GB of storage on a single hard disk, at a cost of US$400. (That's about $200 less than the MediaSmart Server EX485, a 2GHz Intel Core 2 Solo system that boasts a single 750GB hard disk and twice the memory.)
The 4-inch-wide, 8-inch-tall LX195 features four USB ports on the back and an ethernet port. Unlike its MediaSmart cousins, the LX195 does not support RAID-like backup, and does not have tool-less access to the single drive bay; at least, the drives and RAM are both user-accessible and user-replaceable.
The LX195 conveniently also publishes photos directly from the server to Web sites using the HP Photo Publisher software. Supported sites include Facebook, Flickr, Picasa, and Snapfish.
Like its predecessors, this server requires a Windows PC (or Windows running in virtualization) for initial set-up, but is Mac compatible, supporting Time Machine backups and working as an iTunes server.