At a Glance
Expert's Rating
Our Verdict
[Editor's note: The following review is part of Macworld's GemFest 2009 series. Every day until the end of June 2009, the Macworld staff will use the Mac Gems blog to briefly cover a favorite free or low-cost program. Visit the Mac Gems homepage for a list of past Mac Gems.]
The playlist, to the music lover, is one of the greatest innovations since the volume knob, thanks to the ease of copying digital music. Instead of spending hours crafting the perfect mix tape, you can quickly create a playlist on the fly in iTunes. Whether you want music for driving, running, soothing your broken heart, or paying tribute to the greatest hair metal bands of all time, if you've got the songs, creating a suitable playlist is easy.
Creating a playlist that's appropriate for an exercise routine isn't so easy, however. Choosing more upbeat songs will get you halfway there, until you road test your handiwork and realize that one minute you're running pace-to-pace with Van Halen's "Panama" and the next minute Stevie Wonder's "I Wish" kicks in and breaks your stride. It's the exercise equivalent of a hiccup. That's where Potion Factory's Tangerine comes into play.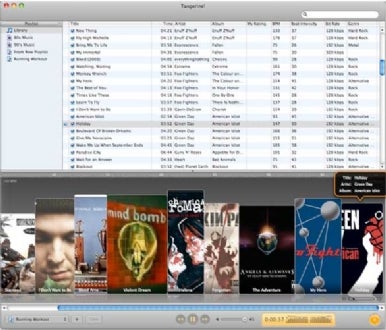 Tangerine's main job is to help you create tempo-based playlists more easily by determining the beats per minute (BPM) and beat intensity of all the songs in your iTunes library. It does this well, making it also an incredibly helpful tool for DJs and music mashup remixers. Simply launch Tangerine to view your iTunes library in the iTunes-like interface, and the app will start analyzing your songs, displaying each one's BPM and beat intensity (the strength of the beat in a song) in respective columns.
Depending on your Mac and the number of songs you have, the analysis could take some time. On my old 800MHz iBook G4, which serves as my iTunes jukebox, Tangerine processed a song every couple of minutes or so on average, though this most likely is due to the laptop's paltry but maxed-out 640MB of RAM. On my Intel Mac, Tangerine blazed through 152 songs in about 35 seconds—very fast indeed.
Once songs are analyzed, you'll be able to see which have tempos within similar ranges and which feature more driving beats, making it easier to create more cohesive playlists for your workouts, club mixes, and what have you. Just drag and drop songs onto the bottom pane to create a playlist and click Save; Tangerine conveniently sends a copy to iTunes too.
Whether you want to create playlists based on tempo or need to find the BPM of your songs, Tangerine makes the process incredibly fast and easy.
Want to stay up-to-date with the latest Gems? Sign up for the Mac Gems newsletter for a weekly e-mail summary of Gems reviews sent directly to your inbox. You can also follow MacGems on Twitter.
Our 186-page Mac Gems Superguide is a veritable greatest hits of Mac Gems. It's available as a PDF download, PDF on CD-ROM, or as a printed book. Learn more about the Mac Gems Superguide.
[Kris Fong is a freelance writer.]