Ro, a $2 puzzle game from Roamular, is as difficult to describe as it is, well, difficult. It's a very challenging puzzler with a unique game mechanic that I hadn't seen before. Though I wanted—and tried, desperately—to love this game, I'm regrettably unable to recommend it. It's the wrong kind of hard, where extra experience with the game doesn't seem to make it much easier.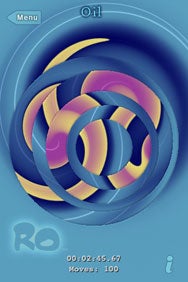 Ro's in-game help is beneficial to read-through before you start, but it won't really make sense until you start playing. You're presented with a pattern or a picture that's been divided into circular slices. As you watch, those circular slices start spinning, jumbling up the picture. Once the slices are still, your job is to spin them as needed to recreate the initial image.
Here's the tricky part: Each slice is (invisibly) connected to one more other slices—and not necessarily adjacent ones. This makes Ro much more challenging than it initially sounds. For example, when you twist the innermost slice clockwise one quarter-turn, it might send the outermost slice spinning halfway counter-clockwise at the same time. And if you go so spin the outermost slice back, it might affect three other slices—in three different ways.
The game's central conceit is, in a word, maddening. Early levels are painless enough; most slices are attached to just one or two other slices that spin in parallel. As you advance, though, the links between slices become increasingly chaotic. I found that my skill at the game increased slightly as I played, but not substantially. Solving successive puzzles often devolved into spinning slices at random for a while to see if I got any closer, after my first set of (theoretically) strategic moves hadn't yielded useful results. Even when I thought I'd gotten better, individual puzzles were challenging to the point of being frustrating, not fun.
I handed Ro to my wife and a few friends to determine whether my disappointment with it—and inability to feel really skilled at it—was more of a reflection on me, or on the game itself. In my obviously unscientific study, my testers echoed my own feelings. There's some potential here, but the challenge presented by later levels stops being fun and just starts being annoying.
Ro offers four difficulty levels: Novice, Intermediate, Advanced, and Expert. Oddly, the game makes you skip through puzzles you've already completed manually, instead of letting you jump directly to the puzzle you want to play. I wish the game offered a means to reset an individual puzzle for when you've really messed things up, and I'd appreciate a way to see what the finished puzzle should look like for some of the more swirly patterns.
Even with those quibbles addressed, though, I'm not sure that would address the crux of my issue with the game. I appreciate the unique concept, the attractive graphics, and the interface, but as clever and innovative as the game is, Ro's central concept is too stressful to be fun.
Ro is compatible with any iPhone or iPod touch running the iPhone 2.x software update.
[Lex Friedman's very name appears in the URL LexFriedman.com.]