The free Yowza Mobile Coupons app wants to save you money. Armed with your location, Yowza presents you with coupons you can redeem at nearby establishments, scanned straight from your iPhone. Right now, though, the app is unfortunately hampered by a distinct lack of available offers, at least in all the areas I tried during testing.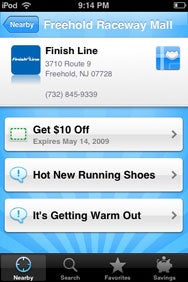 When applicable offers are found, Yowza rocks. But too often, Yowza comes up blank—which is a major letdown.
The idea behind Yowza is strong. When the app launches, it looks within a radius of your choosing (1, 5, or 15 miles) for coupons you can use at nearby stores. You can tap on each store to see the available offers, as well as a few store ads dressed up as news. If you find a coupon worth using, you can show it at the store, directly from your screen. Yowza also lets you tabulate how much you're saving with each offer, so that you can measure your cash saved over time.
Oddly, you're forced to track your dollar savings manually each time. But if I'm using a $10 off coupon, Yowza should be smart enough to add those $10 to my total savings, without requiring me to enter it by hand. Similarly, if I'm using a 15-percent-off coupon, I'd rather tell Yowza my total purchase price and have it do the math for me—isn't that what computers (or iPhones) are for?
Those are small complaints, though. Yowza gets a lot of things right. The app launches fast, and it looks right at home on my iPhone. The interface is intuitive and speedy, and search works great when I search for zip codes outside my own. You can mark stores and offers as favorites for quick, easy recall, and, of course, you can see your total savings to-date. Again, all of this would be super powerful, if only Yowza had more offers available.
See, a distinct selling point for Yowza is that the developers aren't crawling through a bunch of shady, rarely-reliable coupon sites; each offer in Yowza is a custom deal brokered between the app and the stores. That's a smart model, and it could work well—two years from now. Right now, that potential business advantage is a serious constraint; there just aren't anywhere near enough deals in the system. In the short time since Yowza's launch, I've done a bit of traveling, between my central New Jersey home, New York City, Philadelphia, Tucson, and Los Angeles. Never, not once, did Yowza list more than a single offer—and almost every time, that sole coupon was $10 off at the shoe store Finish Line in the nearest mall.
Another weakness—but one that's seemingly much easier to fix quickly—is the app's "nearby" limitations. I can only see stores within 1, 5, or 15 miles, and I'm certainly willing to drive double that maximum for a good enough deal.
One of Yowza's co-founders is actor Greg Grunberg, who currently stars on Heroes. Yowza doesn't need superpowers or fantastic heroics to become excellent; rather, it just needs some good, quick dealmaking behind the scenes with more big brands and stores. Until then, sadly, the app is mostly powerless.
Yowza Mobile Coupons is compatible with any iPhone or iPod touch running the iPhone 2.x software update.
[Macworld.com contributor Lex Friedman has a blog that's 100-percent free.]