At a Glance
Expert's Rating
Our Verdict
[Editor's note: The following review is part of Macworld's GemFest 2009 series. Every day until the end of June 2009, the Macworld staff will use the Mac Gems blog to briefly cover a favorite free or low-cost program. Visit the Mac Gems homepage for a list of past Mac Gems.]
As great as video sharing Web sites like YouTube are, they often don't allow you to directly download the videos on their site. Web2 Delight doesn't just make this possible; it makes the whole process positively painless.
To download a photo or video from any of the Web sites listed in Web2 Delight's sidebar (YouTube, Veoh, blip.tv, Dailymotion, Flickr, Picasa, Webshots, and Photobucket), all you have to do is select the site you want in the sidebar and run a search. Once the video you're looking for shows up in the viewing pane below, you can roll your mouse over the thumbnails and click the Download button that appears. In the case of YouTube, you can also copy the video URL from your Web browser and paste it into Web2 Delight to have it download the video (although it refuses to download more than one video at once in this manner). All downloaded videos are accessible from within the application itself, and can also be transferred to iTunes (in an iPod-compatible format) at the click of a button.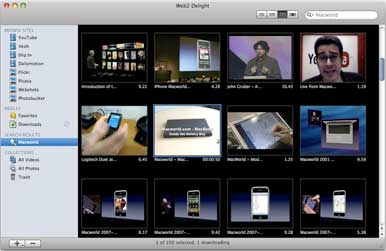 The application features various viewing modes, such as list view, thumbnail view, and Cover Flow (although it seems to have a bug that prevents it from loading the thumbnails in Cover Flow mode). It also allows for saved searches and smart collections, and throws in some rudimentary adult content filtering capabilities for good measure. Also of note is the fact that Web2 Delight lets you download higher quality videos from YouTube whenever they are available.
Although there are a few user interface elements that need to be worked on, Web2 Delight's overall utility and simplicity make it worth the price.
Want to stay up-to-date with the latest Gems? Sign up for the Mac Gems newsletter for a weekly e-mail summary of Gems reviews sent directly to your inbox. You can also follow MacGems on Twitter.
Our 186-page Mac Gems Superguide is a veritable greatest hits of Mac Gems. It's available as a PDF download, PDF on CD-ROM, or as a printed book. Learn more about the Mac Gems Superguide.
[Aayush Arya is a journalism student from India and regular contributor to Macworld. His online haunts include his blog, Penned Thoughts, and his Twitter feed.]