Little Red Sled, a $2 3-D racing game from Imangi Studios, provides fun, though too-brief bursts.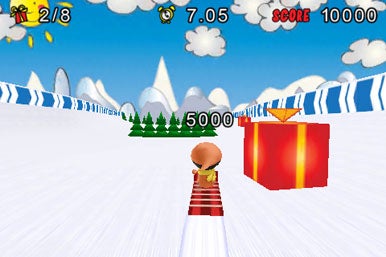 You control your skier by tilting the iPhone or iPod touch left and right for turns, and by shaking it a bit to do tricks after jumping a ramp. The controls work well, and the character feels responsive enough as you ski. The game is broken down into 15 levels, with the developers promising that even more are on the way. (A free version limits the fun to five courses.)
Each level has its own unique challenge. You might be tasked with collecting 10 gifts, or performing five tricks, or scoring at least 85,000 points. These challenges are fun, and they escalate in difficulty well. Successive levels add increasingly innovative obstacles to slow you down, too.
I found, though, that succeeding in the challenges wasn't as fun as the skiing itself. I want a mode where I can just ski along a path, collecting what I can along the way, in a given (and generous) time limit. The fun part is the skiing, and sometimes the challenges (and frequent breaks in between completing or retrying them) interrupted the fun too much for my tastes.
Still, Little Red Sled looks good, and sports a stellar soundtrack with great effects. I'm optimistic that as levels are added, the game will evolve from good to great.
Little Red Sled is compatible with any iPhone or iPod touch running the iPhone 2.1 software update.
[Lex Friedman is a frequent Macworld.com contributor, and frequently mentions his blog.]