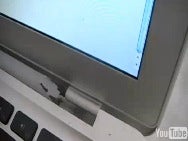 Some of us take out second mortgages to make ends meet. Some of us toil away at menial jobs to weather the economic crisis. Others stab their $1,800 MacBook Air with a kitchen knife because it has a broken hinge. Who are we to say what's right and wrong?
According to the resourceful genius in this video, he, as well as six of his friends who also own MacBook Airs, have all experienced issues with a broken hinge that attaches the monitor to the body. This defect also apparently gives one a bloodthirsty urge to repeatedly stab their MacBook Air in the display with a kitchen knife. On camera.
To add insult to injury, he recommends that we buy a Lenovo x300 laptop instead of a Mac. Uh huh. We have one question to ask: is it kitchen knife-proof?
I'm personally surprised it took three stabs to crack the screen. That's gotta be some sort of testament to Apple's build quality, right? And amazingly the MacBook didn't explode in his face, electrocute him, or shoot hazardous LCD goo into his eyes. Well, it would have made for a more interesting video, anyway.
Watch the brutality—and really bad typing; seriously, couldn't he do a couple takes?—below.
[via Macenstein]
Read more…