Intuit has released Quicken Online Mobile [iTunes link], an iPhone companion app to the company's free Quicken Online personal money-management Web service.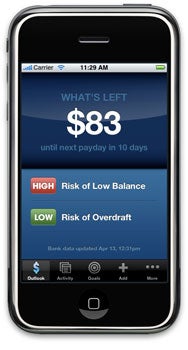 First previewed at this year's Macworld Expo, Quicken Online Mobile focuses on a forward-looking view of your money, showing you how much you have left until your next paycheck, for example. It lets you set budgets and keep track of them while you're out and about, and you can enter cash purchases on the go to track spending, among other features.
When you set up a free account with the online Quicken service, you enter the login and password information for your various financial account Web sites (Intuit says its online service works with more than 5,000 financial institutions for checking, savings, investments, loans, and credit cards). Quicken Online—and the Quicken Online Mobile app—then lets you see and tracks all of those accounts, downloading your financial data once a day. (Wells Fargo accounts, however, don't currently support auto updating.)
For those worried about security, Intuit says that it doesn't store any of your financial passwords (your Bank of America login information, for example), and the Quicken Online Mobile app uses a four-digit passcode for added protection on your iPhone.
The app also includes an integrated ATM finder that uses the iPhone 3G's GPS capabilities to help you find nearby places to get cash at ATMs that won't add a surcharge. You can also enter a zip code to search for ATMs, which lets users of the iPod touch and older iPhones use the feature as well.
Quicken Online Mobile only works with Quicken Online, and requires iPhone OS 2.2.1 running on an iPhone or second-generation iPod touch.
[Updated on 5/1/09 at 9:50AM pacific to clarify that the app doesn't work with first-generation iPod touch models.]