Audio vendor Altec Lansing on Thursday announced the company's new "value" line of computer speakers, ranging in price from $20 to $50. The least-expensive model, the $20 BXR1220, is a pair of small, satellite-style speakers that connects to your computer via USB for both audio and power. The speakers are magnetically shielded, finished with titanium-metallic accents, and feature a volume ring for easy volume adjustments. The $30 BXR1221 mates the BXR1220's satellites with a small (4-inch-driver) subwoofer, but requires wall-outlet power.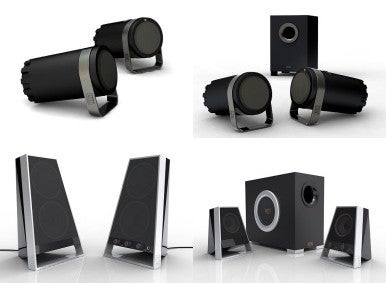 The new two-piece VS2620, also priced at $30, features a trapezoidal-tower design that includes, in each speaker, a 3-inch active speaker and a matching 3-inch passive driver. The system includes two input jacks—one in back for your computer and another in the front for a second audio source—and includes power, volume, and tone controls.
The top of the value line is the $50 VS2621, a three-piece system with a 4-inch driver in the "subwoofer" and a 2-inch driver in each satellite; the subwoofer's compact size—just 4.9 inches wide—lets it fit in tight spaces. Like the VS2620, the VS2621 includes two audio inputs, as well as volume and tone controls on the right-hand satellite. Altec Lansing claims the VS2621 offers outstanding audio quality and volume levels for the price.
The two BX systems are available now; the VS models will be available in late May.