At a Glance
Expert's Rating
Pros
Lots of manual control options
Excellent picture quality in bright light conditions
Cons
Laser Touch system is frustrating to use and slow
Tricky to hold comfortably
Low light picture noise
Our Verdict
Designed to sit at the top of JVC's Everio camcorder line, the GZ-HM400 should give its rivals a run for their money. It can shoot 1920 by 1080 video at 24Mbps (the highest level possible under the current AVCHD specification) and it includes 32GB of internal flash memory, plus lots of manual controls. It also has a 10X optical zoom Konica Minolta lens, and a huge 1/2.33-inch CMOS image sensor with 10.6-megapixel resolution (the camcorder takes 9 megapixels still photos).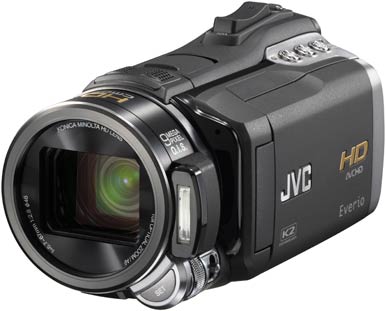 When it's time to start shooting, things get off to a slightly shaky start, unfortunately. The chunky body has a curious dip on the right side, which makes holding it uncomfortable. JVC also continues to use its Laser Touch system, which forces you to stroke a glowing light strip down the side of the camcorder's 2.8-inch LCD to scroll through the menu, or to use certain manual controls. This would be fine if Laser Touch worked well, but it's actually a bit slow to respond, so you either end up doing something you didn't mean to, or scrolling past the option you want. Laser Touch is used in conjunction with five other small round buttons at the bottom of the LCD, which, though touch sensitive, complicate things further. Canon's four-way cursor joystick and tabbed menu layout is simpler and faster.
But the GZ-HM400 gets lots right, too. Its chunky zoom rocker switch is ideal for precision zooming. It has a switch and dial that lets you take physical control of zoom, white balance, exposure and other manual settings—once you switch the camcorder into manual mode. Enthusiasts will love the inclusion of colour peaking and zebra patterns for focus and exposure, and the GZ-HM400 also throws in extended xvYCC colour gamut. However, some options, such as shooting modes, aren't available unless the camcorder is in manual mode, which could be a problem for newbies.
Video quality is excellent, and the level of detail is as good as the best camcorders here; colour fidelity and skin tones are accurate, too. Quality suffers in low light, though, with a lot of picture noise. Also, the stereo microphone on top of the camcorder is too easy to touch accidentally, which adds noise.
Getting footage into iMovie '09 via USB is easy: switch the GZ-HM400 into backup mode and it appears almost immediately on the Mac.
Specifications
| | |
| --- | --- |
| LCD size | 2.8 inches |
| Optical zoom | 10X |
| Still image resolution | 9 megapixel |
| Size (width x height x depth, in inches) | 2.7 x 2.9 x 5.6 |
| Weight (in ounces) | 17.6 |
| Video codec | AVCHD |
Macworld's buying advice
The GZ-HM400's video quality in daylight is good, and it has a good range of manual features, but its poor lowlight performance and the gimmicky Laser Touch interface let it down.
[ Rob Mead is a freelance journalist.]