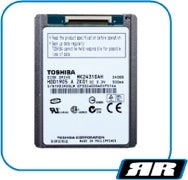 These days, if you want the highest capacity iPod available, you'll have to settle for a 120GB iPod classic. For a while, Apple did offer a 160GB model, but they discontinued it in September 2008. So what are users with more than 120GB of media to do?
Well, for one thing, they could contact the folks at Rapid Repair. The Kalamazoo, Michigan-based company not only fixes damaged iPods (alongside other electronics devices like the Nintendo DS and, yes, even the Zune) but it also offers hardware upgrades. They'll replace your battery, swap in a new screen, and, yes, upgrade your hard drive.
At present, the largest upgrade available is a 240GB drive that can be installed in the fifth-generation iPod with video—and, in fact, the $295 upgrade is so popular that the company is currently backlogged. That price point is higher than Apple's most capacious iPod, the 120GB classic, which retails for $250. Of course, if you don't mind getting your hands dirty, you can always try buying a compatible drive and installing it yourself; Rapid Repair even provides online disassembly guides.
The drop in capacity from Apple is a result of the company's transition to flash memory for the rest of its iPod and iPhone product lines. As prices on flash memory continue to drop and capacities continue to rise, it seems only a matter of time before the iPod classic either goes the way of the garefowl, or it joins its flash memory-powered siblings.
Then again, maybe Apple will reverse itself and throw a honking huge hard drive into the next revision of the classic to satisfy those high-capacity users. Me, I'm still using a 30GB fifth-generation iPod with room to spare.
[via CNN]