At a Glance
Expert's Rating
Our Verdict
[Editor's note: The following review is part of Macworld's GemFest 2009 series. Every day until the end of June 2009, the Macworld staff will use the Mac Gems blog to briefly cover a favorite free or low-cost program. Visit the Mac Gems homepage for a list of past Mac Gems.]
If you tend to put all your events, appointments, and client meetings in iCal, TimeTable can help you figure out exactly how much time you've spent on each task, making it a great tool for consultants or anyone who needs to break down how they spend their time.
Launch TimeTable, and it lists all the iCal events in the chosen calendar over the chosen time frame (by default, the previous month). For each event, TimeTable shows the start date, the total time of the event, and the event name; by right-clicking on any column head in TimeTable, you can show additional columns for iCal's Notes, Location, URL, End Date, Start Time, End Time, Start Weekday, End Weekday, and Calendar fields. You can also rename any column in TimeTable's preferences.
You can change the calendar and time period using the controls in the main window or by opening the Set Timeframe drawer, which gives you both preset periods (such as Previous, Current, and Next Day, Week, Month, and Year) and graphical calendars.
In addition to calculating the length of each event, TimeTable displays, at the bottom of the window, data about all events in the current time frame: the total number of hours spent on all events, the average number of hours for each event, the length of the longest event, and the length of the shortest event.
(If you don't want "all-day" events to be considered as 24 hours in these calculations, TimeTable includes an option to specify how such events should be handled. Since I use all-day events mainly as reminders or "unavailable" markers, I've told TimeTable to treat them as events lasting 0 hours.)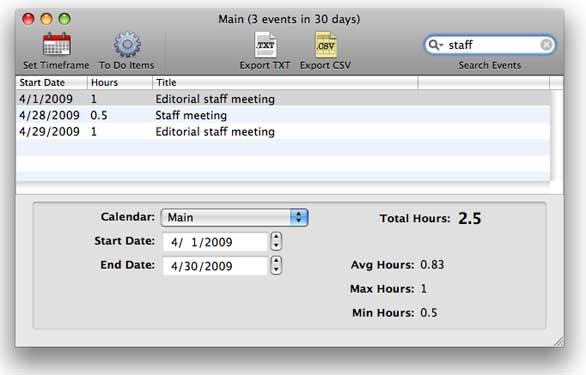 What's especially useful about these statistics is that they're calculated based on whatever events are listed in the window. Which means you can use TimeTable's search filter to display—and, thus, provide statistics about—only those events that match your search; for example, meetings with a particular client. In the image here, I've filtered the view to show only staff meetings in the past month, which tells me I've spent 2.5 hours in those meetings.
Of course, because this filtering is based on event names, you need to name your events appropriately and consistently for TimeTable to be useful; for example, Client meeting: D. Anderson or Project meeting: Web site redesign.
TimeTable also offers an option to calculate billable hours. If enabled, an Hourly Rate field appears in the main window, and a new Cost column appears in the list; enter a rate and TimeTable shows you the billable amount for each event, as well as the total billable amount for all events in the list.
You can export your data to text or comma-separated-value (CSV) documents; these exports can be customized in TimeTable's preferences. You can also export a blog-style list of notes you've entered in iCal for events. There's a Send To Mail feature, too, but it's hard-coded to use Apple's Mail program; if you use another e-mail client, you're out of luck.
TimeTable also lets you use iCal to-do items as a way to quickly limit the event view to events associated with a particular task.
One feature I'd like to see is the capability to view all events in all calendars simultaneously, and it would be useful to be able to choose multiple—but not all—calendars. I wish TimeTable could show times in hours:minutes notation, rather than—or in addition to—decimal representations. Still, it's tough to argue with utility. If iCal is your calendaring program of choice, TimeTable lets you make better use of your scheduled events.
Want to stay up-to-date with the latest Gems? Sign up for the Mac Gems newsletter for a weekly e-mail summary of Gems reviews sent directly to your inbox. You can also follow MacGems on Twitter.
Our 186-page Mac Gems Superguide is a veritable greatest hits of Mac Gems. It's available as a PDF download, PDF on CD-ROM, or as a printed book. Learn more about the Mac Gems Superguide.
[Dan Frakes is a Macworld senior editor.]