The market for compact camcorders, like the Flip Mino and the Kodak Zi6, is growing—heck, they even shoot high-definition video these days. But once you've got that video recorded, what do you do with it?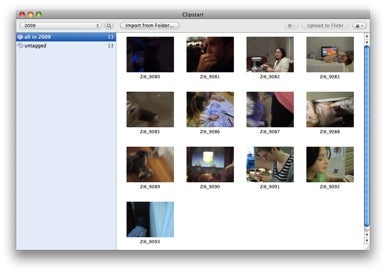 Riverfold Software's Clipstart is here to help. The program is expressly designed for keeping track of those little snippets of video that you record, just as iPhoto and iTunes help you organize your photos and music, respectively. Clipstart allows you to tag your videos, browse them by date, and upload them to popular sharing sites Flickr and Vimeo. (The developer says more sites, such as YouTube, will be added in the future.) You can even do very simple editing from inside the program, such as non-destructively trimming clips for upload.
Cool as it is, Clipstart still feels a little rough around the edges in my brief tests. For example, while it does take advantage of Leopard's Quick Look technology to let you play back your clips, you have to summon it from the Action menu or a video's contextual menu—hitting the usual spacebar shortcut starts playback in the thumbnail view instead. I also found the browsing and searching non-intuitive at times, at least once ending up with a blank screen that made me wonder where my videos were hiding.
Regardless, Clipstart looks to be a solid debut for a product that will no doubt be immensely useful, especially for those—like me—who don't want to have to wrestle with the round-peg-in-square-hole problem of managing your video clips in iTunes or iPhoto.
Clipstart requires Mac OS X 10.5 or later, and runs on Intel or PowerPC processors. A single user license runs for $29 while a family pack for up to five household members costs $59.