Yahoo Messenger is one of the more popular chat clients, boasting millions upon millions of users. Connecting and communicating with those multitudes gets a wee bit easier with the free Yahoo Messenger mobile app for the iPhone and iPod touch. A pleasant interface and the promise of future enhancements by Yahoo makes this an ideal mobile app for Yahoo Messenger users.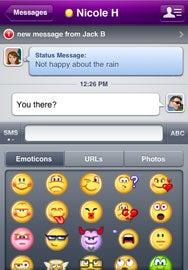 With the app installed on your mobile device, you can chat with other Messenger contacts, share photos (whether they're stored on your device or taken with the iPhone's built-in camera), archive conversations, and enter a custom status message. Yahoo Messenger also offers an invisible mode, where you can be online but look like you are offline. You can send an SMS message from Yahoo Messenger to either your IM contacts or iPhone contacts.
And what if you don't have a Messenger account? You can sign up directly from the iPhone. Searching for contacts through the app is easy—you can type a portion of a contact name when searching and change the sort order of the results.
Messenger stays active if you take a call or switch to another app. The caveat here is that you'll only stay signed on for 10 minutes if you stop using the app. Like other iPhone chat apps, though, Yahoo Messenger is limited by the iPhone OS's inability to let apps in the background—you have to be in the app to receive alerts. That's likely to change with the summer arrival of iPhone 3.0 and its support for push notifications, however.
My only real complaint about Yahoo Messenger is that it feels feature-deprived when compared to the desktop client. You can't chat over video or audio, there's no support for any other instant messaging clients, and histories in the desktop version aren't reflected in the mobile app. There's support for emoticons, but not the animated ones desktop users are used to. I'd also like to see more social-networking integration—my Messenger status update feeding my FaceBook status, for example. (Yahoo tells users to "stay tuned" for more features in this mobile app.)
That said, Yahoo Messenger for iPhone works reliably. Over a three-day period, I never had any trouble holding quick conversations and lengthy chat session with several parties. Little perks help make chatting easier. When you add a URL, Messenger automatically makes it Web-enabled so you or your chat participant can click on it and go to Safari on the iPhone. Chats are always available until you remove them. The client is slick and useful.
Is there anything that will encourage an AOL IM, Live Messenger, Google Talk or iChat user to switch over to Yahoo Messenger? Not really. It seems intended for those who already use the desktop client. It's definitely worth downloading if you already use the Mac client. And the likelihood of future updates make this an app worth keeping an eye on.
Yahoo Messenger is compatible with any iPhone or iPod touch running the iPhone 2.x software update.
[John Brandon is a 20-year veteran Mac user who used to run an all-Mac graphics department.]