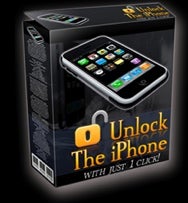 The early craze for iPhone unlocking—enabling the device to work on other compatible carriers besides Apple's partners—was largely fueled by the desire to use the device outside of the few countries it was initially sold in. But now that the device is available in over 80 countries, the fervor should have died down, right?
Well, yes and no: instead, the unlocking brigade has gone commercial. Unlock the iPhone is a $30 (the company software program that promises one-click unlocking of any iPhone model (original or 3G) running any version of the software—the company has just added support for iPhone OS 2.2.1. The solution also supposedly works with both PCs and Macs and comes with a money back guarantee.
What could go wrong? Well, we're obligated to remind you that unlocking your iPhone hasn't been looked on kindly in the past, and oftentimes future software updates will either negate the unlocking at best, or cause problems with the phone at worst. Of course, there are a variety of free unlock solutions as well, though Unlock the iPhone says it offers free updates to the software, as well as 24/7 support.
Phone unlocking is still one of those topics under debate, with organizations like the Electronic Frontier Foundation arguing last Friday for renewing an exemption to the Digital Millennium Copyright Act that makes unlocking phones legal. We say, as always, proceed at your own risk.