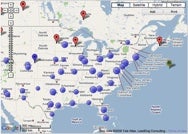 Happy with your 3G phone service? Or perhaps not so happy? Blazing fast? Too slow, too many dropped calls? As we've found in the past, 3G speeds and coverage vary widely based on the network or even just on location.
The good folks at Wired, spearheaded by our former Macworld colleague Brian Chen, are hoping to paint a picture of 3G speeds and coverage throughout the U.S., across all the different major providers. In addition, they want to know just how satisfied customers are with their 3G service, so they're compiling a survey based on information from you, the readers—lucky you!
If you've got a few minutes to spare, it's easy enough to add your own information to the mix. Just visit Wired's network test page on your 3G device and then add the results to their embedded Google map. The full results will be available in about a week and while it may not be a scientific survey, by any means, but the numbers will probably be interesting to see nonetheless.