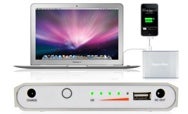 If there's one thing we could all use, it's a little more staying power. But great as running and push-ups are, they'll do nary a thing to help improve your MacBook's battery life. For that, you might want to investigate Sanho Electronics' new HyperMac external power pack.
Billed as the world's first and only universal power solution for Apple's entire MacBook line, the HyperMac battery comes in four different capacities: 60 watt hours, 100 watt hours, 150 watt hours, and 222 watt hours. Each comes with a cable for connecting to the MacBook's MagSafe charging port (you have your choice of the standard connector or the compact MacBook Air version).
Of course, Apple still doesn't license the MagSafe plug to third-party vendors, so Sanho makes its connectors by grafting Apple's own MagSafe connectors onto new cables that connect to the HyperMac's DC power out port. The batteries also include a battery indicator and a USB port so you can charge your other devices, like your iPod or iPhone, simultaneously. If nothing else, it's potentially a nice addition for those who are unhappy with the 17-inch MacBook Pro's sealed battery.
The HyperMac product page has an extensive chart detailing how much extra life you can get out of the batteries, depending on which model MacBook and which model battery you're using, but it appears to be a pretty decent gain on average (as always with batteries, your mileage may vary). Extra power isn't without its drawbacks, either: you're going to have to lug an external battery around, and the HyperMac models range between 0.8 pounds for the 60-watt-hour model to a hefty 4.7 pounds for the 222-watt-hour version (which, I'll note, is weightier than just toting an extra 13-inch MacBook with you).
The batteries, which are due to ship later this month and are currently available for pre-order, start at $200 for the 60Wh model, with the 100Wh version costing $300, the 150Wh costing $400, and the 222Wh costing $500. Cheap, they aren't, it's true, but it might be just what you're looking for if you're frequently running out of juice.
[via Gizmodo]