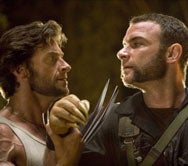 Look out, Microsoft—you've gone and made Sabretooth mad.
Actor Liev Schreiber, who plays the hirsute villain in the new X-Men Origins: Wolverine movie was a guest on Wait Wait… Don't Tell Me, the weekly news quiz program on National Public Radio. The interview with host Peter Sagal covers the expected territory—the big X-Men movie, Mr. Schreiber's acting career—before veering off into a tangent that sounds like something straight out of Apple's old Switchers ad campaign. To wit:
Peter Sagal: We had one question for you, we were dying to know: How annoyed do you get when you type your name into Microsoft Word, and it keeps wanting to spell it "Live?"

Liev Schreiber: So annoyed that I moved to a Mac.
What I wouldn't give to watch Sabretooth make short work of Clippy.
You can listen to everyone enjoying a cruel laugh at Microsoft's expense on the Wait Wait Web site—just scroll down to the Not My Job segment. Or, you can go to the show's iTunes Store page and download the May 2 episode for yourself.