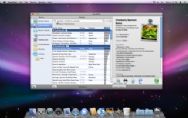 Ever since moving into a new apartment last year, I've been meaning to become a better cook—as in, "one who actually cooks food and doesn't just speed-dial All-Star Pizza." Lucky for me, SousChef, from Acacia Tree Sofware, tries to stuff an entire cooking experience into my MacBook.
Available starting today, version 1.2 features several new tricks in the never-ending quest to become master of an incredibly-small kitchen with limited storage space. To wit: metric system support, allowing you to convert between metric and imperial/SI units like crazy; more recipes in the "Cloud" of user-submitted recipes—over 60,000 as opposed to version 1.1's 8000 recipes; paged search results; and support for larger recipe databases.
The $30 SousChef 1.2 (updates from earlier versions are free) also features smart-grocery lists, improved accuracy for importing recipes from websites or elsewhere, a "10-foot" mode that lets you read recipes from, well, 10 feet away, and substitution suggestions. SousChef can also find recipes based on ingredients you already have on hand (mmm…pasta). Now if only SousChef would do my dishes for me too.