At a Glance
Expert's Rating
Our Verdict
[Editor's note: The following review is part of Macworld's GemFest 2009 series. Every day until the end of June 2009, the Macworld staff will use the Mac Gems blog to briefly cover a favorite free or low-cost program. Visit the Mac Gems homepage for a list of past Mac Gems.]
If you juggle work all day and find yourself switching from one set of apps to another, you can appreciate Relaunch. The idea is simple: for one project, you need one group of apps, while for another project, you need another group. You can either open each app as you need it, or you can use Relaunch to automatically open an entire set of apps (and even files) for you.
To create a project set, open all desired apps and close what you don't want in that set. Open specific files you use too, in case Relaunch can auto-open them for you as well. Then, click Relaunch in the menu bar and choose Save Snapshot. Name your project's snapshot and save it anywhere. (I stash each in my docked project's folder.) Repeat for each project or set of apps.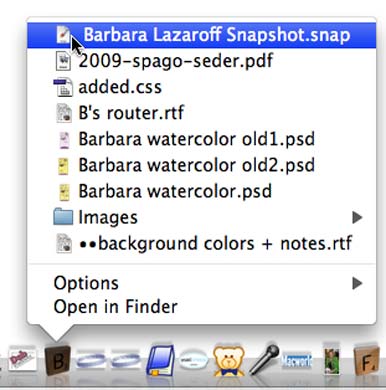 Simply choosing any snapshot opens the associated program so they're ready for you. To have Relaunch close all programs as it opens a set, check the option to ask if you'd like to quit open applications. This creates an extra step, though, as you have to deal with the questioning dialog box. As a project's apps or files change, you can save a new snapshot to replace the old one.
The opening of specific files is inexact because Relaunch is dependent on AppleScript abilities. Some apps call files while others cannot. Safari, for example, recalls only the top tab. Relaunch's Help documentation lists files that Relaunch can open.
The other benefit of Relaunch is the Auto Snapshot feature. It'll track the apps you have open and, upon restart or login, will give you the option to reopen previously running apps. That can be a great time-saver.
Want to stay up-to-date with the latest Gems? Sign up for the Mac Gems newsletter for a weekly e-mail summary of Gems reviews sent directly to your inbox.
Our 186-page Mac Gems Superguide is a veritable greatest hits of Mac Gems. It's available as a PDF download, PDF on CD-ROM, or as a printed book. Learn more about the Mac Gems Superguide.
[Deborah Shadovitz is a Web designer and the author of Adobe GoLive 5 Bible (IDG Books, 2001). She also penned Mac Design's GoLive column, and was a contributor to SBS Design.]