At a Glance
Expert's Rating
Pros
Good image quality
Special wizard helps adjust image settings
Cons
Incomplete printed manual
Some problems with motion judder
Our Verdict
LG's 42LH55 42-inch HDTV covers the basics well, delivering a good picture and very good sound. It's short on extra features, however, and it doesn't display motion as well as some of the other 240Hz LCD HDTVs we've tested.
In our lab's image-quality tests, judges complained occasionally about the colors and contrast. For example, we found that a clip of Wheel of Fortune at 720p was a touch too bright, or a scene from the Phantom of the Opera DVD was somewhat muddy, with indistinct details lost in darkness. More troublesome were the digital artifacts we spotted, which indicate that the 42LH55 struggles with complex patterns, especially those that are moving. In a 720p baseball clip, moving objects exhibited noticeable haloing effects. A brick wall in Chapter 7 of the Mission: Impossible III Blu-ray appeared to vibrate as the camera panned across the scene. The weave of Morgan Freeman's jacket in Chapter 9 of The Dark Knight danced with moiré patterns.
In our motion and panning tests, which push a TV's motion-handling capabilities to the limit, the 42LH55 showed mixed results. It did well on the horizontal-panning test, although not quite as well as other 240Hz LCD sets we've tested. On the diagonal-panning test, it performed quite poorly: The image juddered and showed considerable artifacting when it should have been a smooth pan. Changing how the set converted 240Hz content to 120Hz through the 42LH55's TruMotion 240 setting didn't help. Our motion tests confirmed the (less extreme) motion problems it exhibited in the Mission: Impossible III and Dark Knight tests.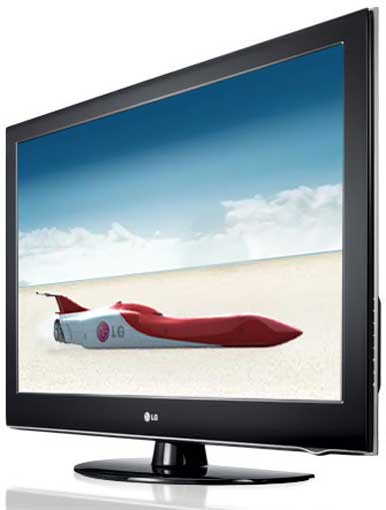 The 42LH55 has a very good sound system, although it isn't powerful enough. I could turn the volume up all the way without eardrum discomfort, which isn't a good sign (a TV's maximum volume should be too loud). Other than that, I liked what I heard. The faux surround sound was very good, and the dynamic range was enough to give a sudden organ blast its desired punch. Really good movie sound requires a separate surround-sound system with a receiver, at least five satellite speakers, and a large subwoofer.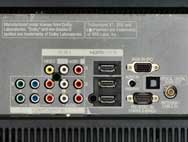 When you first see the 42LH55, you might think that it was damaged in shipping: A weird dip in the lower-right corner of the frame looks like the result of an accident. But when you plug in the set and that dip begins to glow, you know it is intentional. It gives the LG a distinctive appearance, as does the transparent framing; but other than providing a small light that glows red when the TV is off and blue when it's on, this dip serves no real purpose.
This HDTV is reasonably simple to set up, with easy-to-access input connectors and a first-time wizard that asks most of the right questions. Instead of asking whether you're using cable or an antenna, however, it simply tells you, before scanning for channels, to "be sure that the TV antenna is connected." Despite that wording, it scanned our cable connection without problems. On the positive side, a Picture Wizard helps you set up the picture settings to your own taste. The wizard walks you through several photos, each split down the middle. You pick which side looks better, and the set uses your choices to configure the TV accordingly.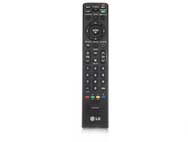 The main menu is big and easy to use, although it lacks on-screen explanations, forcing you to check the manual for more information if anything is unclear. The included printed manual is only 19 pages long and hardly thorough; you'll most likely have to refer to the more comprehensive, 136-page manual that exists only as a PDF file (included on a bundled CD, and available for download from LG's Website).
In addition to the main menu, the set has a smaller Quick Menu (with a very cool wheel design) for listing items you're likely to change frequently, such as aspect ratio and picture and sound modes. Changing inputs (DVD, DVR, the TV's own tuner, and so on) is easy since the ones you're using are listed first and are highlighted. You can also customize label inputs from this screen; most TVs require you to dig into the main menu to customize your inputs.
LG Electronics 42LH55
| | |
| --- | --- |
| Performance | Very Good |
| Features | Very Good |
| Design | Good |
Scale = Superior, Very Good, Good, Fair, Poor
The 42LH55's multimedia capabilities are modest. It can show photos and play music (MP3 only) from a USB storage device such as a flash drive. The slideshow function has some nice transitions, and it allows you to pick background music. The set lacks video playback support, though.
This Energy Star 3.0-compliant, 42-inch LCD uses about 103 watts when turned on (at least, at the PC World Labs' standard settings). When off, it sips a mere tenth of a watt. This is better than most new 40-inch HDTVs, but toward the bottom of the group of HDTVs we tested.
Macworld's buying advice
The 42LH55 has its problems, and it isn't the best option out there. But all things considered, it's a nice HDTV.
[Lincoln Spector is a contributing editor for PC World.]