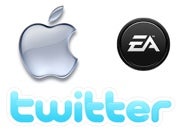 Every time we start hearing about just how much money Apple has in the bank—as of last count, that number is hovering around a pretty flush $29 billion—rumors start fly about what the company will do with its Scrooge McDuck-level cash reserves. Acquisitions always make for a juicy suggestion and current speculation has fallen on two major targets: social-networking site Twitter and video-game company Electronic Arts.
Twitter has become a phenomenon of late, its bite-size messages taking the Internet by storm and possibly even unseating Facebook as the "it" place to be on the Web. While Apple's participation in Twitter is extremely limited, it clearly recognizes the service's impact: for example, the company recently profiled the use of Apple technology at Twitter.
The iPhone, in particular, has helped boost Twitter's popularity—the two seem like a natural fit for each other. But to my mind mind that's not nearly enough for Apple to go out and purchase the company lock, stock, and blue bird. It's not that Apple couldn't afford Twitter—$29 billion buys a lot of 140-character messages—but it is a question of why the company would bother. As Silicon Alley Insider's Dan Frommer points out, nothing about Twitter helps Apple sell more devices, which still remains its core business.
While Twitter has ample funding at present, there's still the long-term question of how exactly the service will generate revenue. Apple's not adverse to employing loss-leaders or breaking even on ventures when it helps move higher-margin products. While Twitter might help convince some people to buy an iPhone—and even that may be pushing it—it's not going to help move any more iPhones if it were owned by Apple.
Not to mention that, despite the explosion in social networking of all sorts, Apple has remained the same close-mouthed company that it's long been. It would seem a little silly for the company to buy a Web service and then not eat its own dog food—and it seems equally improbable that Apple will change its tune and dive head first into tweeting up a storm.
Then there's Electronic Arts. While Apple has struggled with gaming over the years—some of us, for example, still remember Steve Jobs's presentation of Halo at Macworld Expo 1999—the iPhone and iPod touch have made the company a player in the handheld entertainment space. EA is undeniably a big part of that, and the two companies have worked together to bring high-quality titles to the platform. Games remain the top-selling category on the App Store, and Apple's iPod touch ads in particular have focused more and more on gaming.
In that sense, an EA acquisition might make sense: games help sell iPhones and iPod touches. But EA is a big company that makes way more than just iPod touch games; if Apple were to purchase it—for what undoubtedly would be a hefty sum—it'd be getting a lot of baggage in the deal. EA is a major developer for console systems, and in spite of constant rumors over the years, I don't think that's a space that Apple is really that interested in joining. Not to mention that EA's reputation hasn't always been stellar—there have been allegations of employee mistreatment and, more recently, unpopular decisions on DRM.
Apple does have a history of making acquisitions, but such deals are usually extremely judicious and strategically focused on improving Apple's core businesses. For example, while the company's purchase of chip manufacturer PA Semi is still somewhat shrouded in mystery, the ability for Apple to produce its own low-power processors has pretty clear implications for its iPhone/iPod business. Apple's various professional software acquisitions over the years—Logic, Shake, and Final Cut Pro, for example—have helped keep it a fierce competitor in the creative professional market that has long been a big part of the company's bread and butter.
During the most recent financial results conference call, Apple CFO Peter Oppenheimer reiterated that Apple's primary goals with its cash reserves are conserving its principal and making smart investments. While acquisitions might fall under that heading, in these credit-strapped times, Apple's $29 billion and change is a comfy perch for Apple— according to Reuters, it's second only to Cisco, which has around $30 billion. When it comes to acquisition, Apple is always a careful buyer and the moves always make sense, even if not immediately and with a company that's as focused on value as Apple is, it's always worth thinking about just what it stands to gain.